9 Surprising (But True) Things About The Minnesota Ballet!
I had the pleasure of sitting down with both Robert Gardner, Artistic Executive Director, and Nikolaus (Nick) Wourms, a company dancer and choreography, to discuss the Minnesota Ballet. I learned a lot of fun facts and even some surprising things about ballet in the process.
The Minnesota Ballet's home is right here in Duluth, Minnesota. It's one of the largest ballet companies in the state with professional dancers under contract. Besides the dance company, they have a professional dance school attached with professional teachers who have dancing experience. The Minnesota Ballet company began in 1965. The 2016-2017 year will be their 51st season. They are a classical, professional ballet company, making them unique in Minnesota in the fact that they are purely classical. On a national scale, the Minnesota Ballet is a smaller company, having only 12 professional contract dancers and 4 apprentices (this year they also have 1 trainee).
Ballet Training & Rehearsal
Ballet is a physical art-form. You must be an athlete to be a professional in this field. While ballet is smooth, seamless, strong, and powerful, the dancers work extremely hard to make this a reality.
Principal to becoming a professional dancer, one needs to attend a ballet school. Typical dancers start between the ages of 6-8. Sometimes children will start at the age of 3. At this time, they'll be introduced to rhythm, movement, camraderie and self esteem. The serious training doesn't begin until 6-8 though. As an industry basis, it takes 10 years of training to become a professional dancer at the apprentice level. All dancers, even the pros train daily.
Apprentices
Once a dancer has completed roughly 10 years of training, they are ready to move on with their training program and begin working in the professional world. All companies have an apprentice program. The apprentice dancers may not be quite ready to join the company, but they can still get professional experience. The apprentice program is a professional extension of the training program. The dancers start to concentrate more on the artistry of the work, and less on the academic technique. With the smaller size of the Minnesota Ballet, their apprentices have the opportunity to join the company dancers and perform during the season.
Joining the Company
Every year the company holds national auditions in April at the end of the company season. Robert receives resumes and videos through email, but he always likes to see applicants in-person for a couple hours before making a decision. Dancers are hired on many factors including the types of artists needed for the upcoming season and dance technique. Robert also looks for dancers to build the company; dancers who will stay and mesh well personality-wise with the current dancers in the company. The company welcomed 6 new dancers this year, some from around the world, including Australia, Japan, and the Dominican Republic. The company dancers are on 1 year contracts, which is the industry norm.
Daily Company Training Regime
The Minnesota Ballet's season lasts between 27-29 weeks long (some of the bigger companies can go up to nearly 52 weeks a year). During this time, the professional dancers work Monday through Friday 9:30 AM – 4 or 5:30 PM (depending on if the Ballet school is in session too).
Warm-up
The professional dancers begin their day by arriving anywhere from 15 – 45 minutes early to conduct personal stretching and warm-ups. The day officially begins at 9:30 and everyday starts with a 1 hour 30 minute group ballet class. This class is for the dancers to warm-up, work on the technique of classical ballet, build strength and flexibility, work on musicality and artistry (learning how to present themselves to the audience), and coordination. The goal is to keep their bodies well tuned, but to also push their capabilities. Classes tend to start slower, then progress to barre work, with the dancers ending class in the center of the floor, working on jumps and turns.
After ballet class the dancers take a short break. During this time dancers will often practice tricks in a choreography they have to do, will work on partnering techniques with each other, will stretch, or the girls will bang their pointe shoes to get them into the shape they want.
Rehearsal
Following the break the dancers will have 2 hours of rehearsal, followed by lunch, then more rehearsal for the rest of the day. During rehearsal time, the dancers practice the specific choreography they'll be performing. Oftentimes there can be conversation surrounding what they're trying to do and how they're trying to make that happen; such as the motivation behind a piece.
Closer to live performances, they'll run straight through ballets, then entire shows in order to build up their stamina. During rehearsal they learn parts they'll perform, parts they'll never perform. as well as parts they may have to perform in case an injury arises. Dancers continually train and rehearse to improve upon classic skills such as balance, lifts, extension, turns, jumps, and fast & clean footwork.
In order for a dancer to be successful, they must be passionate and determined. They must be strong, have self-confidence, and an awareness of the self and humility.  According to Robert, "I really think the dancers that go the farthest and have the most successful careers have a sense of humility…because you are always learning." He believes that ballet is not a competition between dancers, it's about making yourself better.
Classical ballet is a great dancing foundation for any other dance type as it's very core-centric and based on balance, flexibility, musicality.
What's the Deal with Pointe Shoes & Tutus?
Pointe Shoes
Pointe shoes are unique to classical ballet and are the basic tool of the ballerina. They came into being in the mid-19th century when the dancers were becoming stronger. One dancer rose up on her toes for just a second and it caused a sensation in the audience. Since then, they started figuring out ways to make it possible for the dancers to stay up on their toes longer. They started darning soft slippers. That led to a shoe made out of satin with a leather sole and with glue and cardboard in the toe.
Going on pointe is quite an athletic feat. Minnesota Ballet students don't go on pointe until they've had 5 years of training or more. The strength must be achieved, plus a dancer must be physically ready. Not until age 12 is when orthopedics say that the cartilage in a child's foot is strong enough and ready to be able to do that.
Pointe shoes are also one of the most expensive parts of the ballet's budget. Some shoes are machine-made and some are handmade, but every dancer has their own unique shoe preference. One pair of shoes typically costs $65-$100. A dancer can use up to 2-3 pairs of shoes a week.
Ballerina Tutus
To understand the tutu, you'll need a quick overview of the history of ballet. Ballet migrated from the courts of Italy through Catherine de' Medici who brought the art-form to France. In the late 18th – early 19th century King Louis XIV was so enamored by the art-form, he made it the official art-form of the courts of France.  Dancing was traditionally done by the lords and ladies of the courts. King Louis XIV started promoting specific people to be dancers of the court; this is when ballet became a profession.
Since ballet started in the courts, the dresses were long and it was about patterns of movement, with little steps. As the art-form progressed and dancers become more proficient, people wanted to see what the dancers' feet were doing, so the dresses became shorter -ankle length. The fabrics changed from heavy satin and brocades to more shear materials like chiffon. This is when the tulle tutu started. The 1st tutu was what's called a romantic tutu and it was ankle length. The classical tutu, or the short tutu that people think of today, progressed into what it is because people wanted to see even more of the dancer's movements, including their legs, not just their feet.
As a whole, most men don't wear pointe shoes or tutus. When they do, it is often for comedic effect, like when they portray the step-sisters in Cinderella.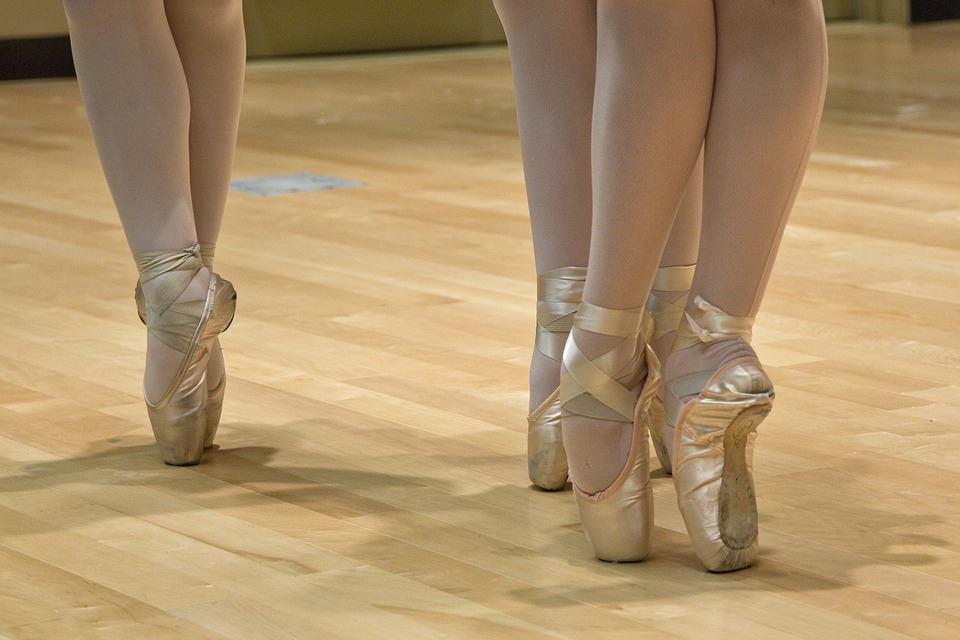 Making a Show Come to Life
Beyond the dancers, there are many parts that must come together before a show can come to life. First, things start with the rehearsal period for the dancers. They learn the choreography or new choreography is created if applicable -this part includes the choreographer and dancers including the ballet master or mistress. During this time the wardrobe mistress or costume designer is figuring out the costumes that are needed. Once the choreography or the artistic executive director makes the casting decisions, the wardrobe mistress fits the dancers into their costumes. When needed, they make new costumes or transform current costumes to fit the new story and performance.
The lighting designer works with the choreographer to determine the vision (e.g. bright vs shadowy). If it's a story performance, then the stage manager works on props (e.g. broom for Cinderella). The scenic designer creates the scenery if any is required for the performance (e.g. a medieval castle in Ireland for Sleeping Beauty).
All throughout, the costume designer works with the scenery designer and the lighting designer to make sure everything meshes together (e.g. no blue lights on a pink costume -which would look brown on stage).
The Minnesota Ballet is a small company, so many of their technical support people wear many hats -stage manager/props & masks,  lighting designer/production manager, costume designer/wardrobe mistress. A normal company will have maybe 20 people. The Minnesota Ballet has 5-10 in their company.
2016 Season Performances
The Minnesota Ballet is excited to bring to the stage 4 main performances this year. All shows are family friendly and welcome kids. Tickets can be purchased online.
Moving Beyond
September 23rd – 24th | Mitchell Auditorium, College of St. Scholastica.
5 choreographers have been working on all new pieces for Moving Beyond. The show will be a variety of 5 different artistic visions and choreographic processes -it will present different approaches and perspectives to ballet- all in the same performance.
Robert really urges people to come check out this performance. "It's a very great way to get introduced to dance because it's very intimate…because we have so many new dancers [this year], you can see them up close and personal and learn about them before you see them at the DECC on the big stage in a big production."
While this show is likely the most sophisticated show of the season, it doesn't exclude any audiences. You won't want to miss this moving, up-close & personal performance by the ballet.
Dracula
October 21st – 23rd | Symphony Hall, The DECC
The Minnesota Ballet website describes Dracula as: "Thrill to the Ballet's elegantly eerie Dracula, created by Robert Gardner following the grand tradition of Bram Stoker's Gothic tale. Dark fantasy plays out in compelling dance to spooky classical music as mortals struggle to overcome vampire powers"
While Robert describes the show as "fabulously fun….spooky and scary," he also notes that it's not gory or blood curdling. It's very much a family friendly show. In fact, the matinee performance on Sunday invites children and adults young at heart to show up in Halloween costumes.
Finally, be on the lookout for the fascinating set-work which has been created in the style of a graphic novel.
The Nutcracker
December 9th – 11th | Symphony Hall, The DECC
The Nutcracker is a classic fairy-tail that's a perennial favorite for many show-goers. You won't want to miss out on "The merry party with the children's hijinks and gown-ups' little dramas. The Mouse King's flying leap into battle with the Nutcracker. The flurry of twirling snowflakes. The "utterly adorable" gingerbread children emerging from Mother Ginger's skirts. The swirling bouquet of waltzing flowers."
The performance is actually unique to the Minnesota Ballet company in the fact that it was choreographed and conceived by Allen Fields, the former Artistic Executive Director. He envisioned the set in Manhattan in New York at the turn of the century. The New York skyline in present in the background throughout the performance and the snow scene takes place in Central Park.
With the permission of the original choreography, Allen Fields, Robert likes to annually tweak (in little ways) the performance to the dancers' strengths and to push them.  He also likes to make small tweaks and changes to create little surprises for the audience. Annual attendees enjoy looking for these little changes, so be on the look-out yourself this year!
Firebird
March 24th – 25th | Symphony Hall, The DECC
Firebird is a Russian folktale that's set to the score of Igor Stravinsky. The site describes this performance as, "Experience Firebird, a favorite Russian fairy tale set in a primeval forest and an enchanted garden, filled with monsters, mayhem, and magic. Prince Ivan captures a beautiful firebird, who gives him a magical feather for her freedom. The prince will need the feather to summon her help in overcoming the evil sorcerer Kostchei and his minions, who have captured the Prince's brothers and lovely princesses."
Also created by Robert, this performance is very colorful. It lends itself to the iconic Russian art, but Robert's vision is more modern. The sets were built to reflect contemporary Russian graphic arts.
The Minnesota Ballet has a number of other performances throughout the upcoming season, including the Celebrity Dance Challenge. Be sure to check out the Performance section of their website for more information.
A Sit Down with Nick Wourms -Professional Ballet Dancer & Choreographer
Nick has received a couple of grants to develop his choreographic process. And working on that process is the direction he wants to move with his career. According to Nick, the choreographic process is different for every choreographer. It starts with an idea or vision of what you want to do. That vision is then brought into the studio and attempted to be realized through the dancers. Inspiration can come from anywhere, including the music, a story, personal experience, or just watching a dancer dance. It's about trying to work through the different dynamics of what each dancer is capable of both technically and artistically. It's about how those elements in each dancer compliment each other and how they fit the vision and the overall look. For Nick, the process is collaborative and he works with the dancers to make his vision come to life given the dancers' expertise.
The most rewarding aspect of ballet for Nick is:
"I guess for me it's, whether I'm choreographing or performing…when I'm able to break through whatever technical barriers or personal barriers and I'm able to make a connection with the audience, even if it's only one or two people…it's finding that some audience members connected with something I choreographed  or that I performed. "
Nick's biggest challenge is keeping his body in the shape it needs to be in order to continue to meet the demands of daily rehearsals and performances as he gets older.
Be sure to attend Moving Beyond to see the piece that Nick has been working on for the past year!
Learn more about the rest of the company dancers.
Still Think Ballet Isn't For You?
You'd Be Surprised!
Ballet is a very adaptable art-form. It's easy to take the classic stories and modernize them. Ballet is a living, breathing art-form. You don't have to speak the language the story is set it. Ballet is visual, it's physical and it tells the story through the body and through emotion (In fact, that's what attracted Robert to ballet and why he made it his career).
According to Robert:
"What's great about ballet I think, is that the ballets that were created and as the art-form became a popular part of the cultures of Europe, and then eventually part of the culture of the United States, is that those pieces weren't left in the dust or just in the history books. They continue to be performed because they're great works of art…When you see a classical ballet, it's just like going to the Metropolitan Museum of Art to see the Picassos… when you see these classical ballets, it's just like seeing great works of art."
"I'ts not an elitist art-form and there are so many facets to it. I don't think anybody should make an assumption and hope that the perception is changing nationally now….I think that they have to understand that it's this amazing, athletic visceral experience to watch dance live and that it is a very human art-form….the emotion, the music, telling a story and it really reaches any body — touches everyone in a different way. And you never know how it's going to affect you. It's always an amazing experience…very rarely have I had a first-timer come in that says, 'Oh, I didn't really like that,' it's always 'I never knew that dance was like this. I never knew it could effect me like this, I never knew I would enjoy it like this.'…People should always be open to trying new things. I think they'll be amazed with what they find when they come to see a dance performance."
Minnesota Ballet's Mission
Part of their mission is to not just to do story ballets, but to do performances like Moving Beyond, where they aren't just meeting the classic expectations. The Minnesota Ballet also conducts outreach which is an important part of their mission. They try to help children who may not have the opportunity to go to a performance find out about ballet. The dancers go into the schools and teach them dance or do a little performance. They aim to open the kids' eyes to something new, to get them excited.
Their goal is to inspire a love and appreciation for dance, to advance the art of ballet, to increase access to the art form, and to use its resources to benefit the greater community.
What I Learned
My time learning about the Minnesota Ballet was quite enjoyable. Here's a summary of the surprising things I learned:
1. The Minnesota Ballet's home is right here in Duluth, Minnesota (not the Twin Cities).
2. Ballet is an extremely physical art-form that's [more than] a full-time job.
3. Dancers can start as young as age 3, but it takes 10 years before becoming an apprentice.
4. Company dancers are under contracts that last 1 year.
5. Ballet is more than dancing, it also requires artistry.
6. A ballet company is much more than dancers -there are many roles, including choreographer and teacher.
7. Pointe shoes are an incredible, but painful feat for ballerinas, plus they get expensive!
8. Classical tutus are short to show off the foot and legwork of a ballerina.
9. The Minnesota Ballet does a lot of great outreach in the community to inspire the love of dance.
Enter to Win!
What surprising thing did you learn about ballet? What's your favorite performance you've attended in the past? Which show are you most excited about this season? Share with us in the comments below from September 7th until September 14th 2016 and be entered to win 2 Gold section tickets to the Dracula ballet!
By Jessica Carl