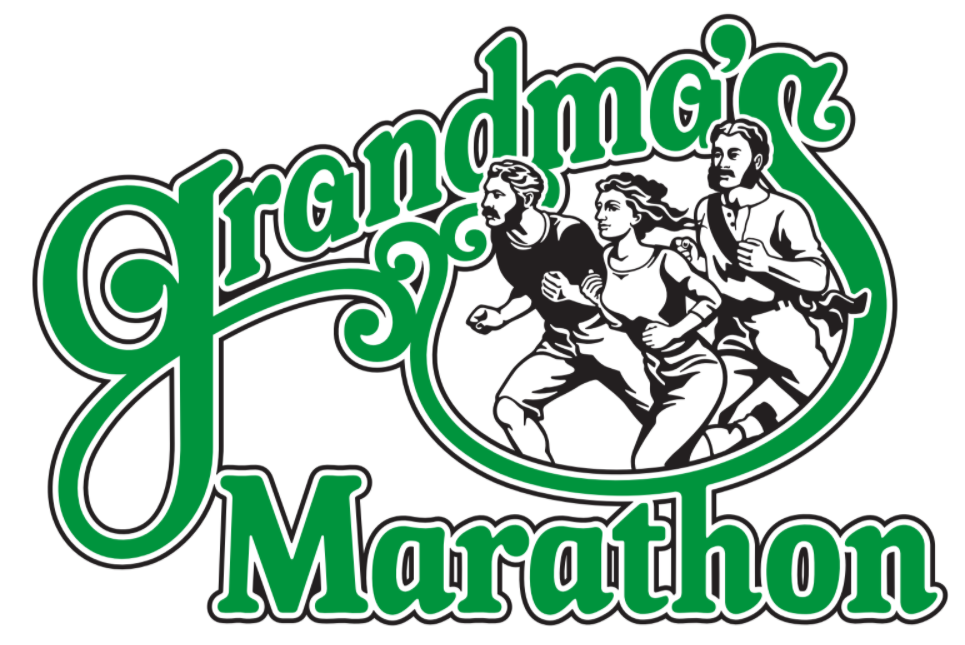 GRANDMA'S MARATHON TO OPEN 2021 REGISTRATION ON OCTOBER 1
Updated Logo Unveiled for the 45th Annual Marathon Weekend
(Duluth, Minn.) – Grandma's Marathon was one of the first event organizations in the country to formulate an approved COVID-19 Preparedness Plan to allow participants to run races in person, as safely as possible during the pandemic. The organization is now planning to couple that experience with guidance from local and state health officials to design a 45th anniversary of Grandma's Marathon that is as safe as possible. 
"To make our runners as comfortable as we can under these circumstances, we started very, very cautiously with the Park Point 5-Miler in early July. It was extremely socially-distanced, but it felt secure and we received great feedback from the runners in that regard," states Shane Bauer, executive director at Grandma's Marathon. With incrementally more runners participating in the Minnesota Mile and Fitger's 5K coming up on September 11 and 12, followed by the North End Nightmare event in Superior on October 24, organizers are already looking toward June.
The plan is to open registration for the 45th Grandma's Marathon, 31st Garry Bjorklund Half Marathon, and 27th William A. Irvin 5K at half capacity on October 1. Registration will open at 7:00 p.m. central time. Half capacity will limit the races to four thousand runners in both the marathon and half marathon, and fifteen hundred runners in the 5K. If the uncertainty around COVID-19 were to subside early enough in 2021, whether via a vaccine or other immunity actions and measures, registration could possibly be reopened to offer more participants the chance to run. 
If COVID-19 conditions don't improve from where they are now, there's a good chance that marathon weekend races will have to be run virtually for the second year in a row. New for 2021, in the event of in-person race cancellation, Grandma's Marathon will give the registration value back to registrants with a forty percent discount that can be used up to three times over the next five years. A virtual option will be available from the start of registration as well, without the cancellation contingency discount plan included. Here's the full registration plan breakdown:
October 1, 2020 at 7:00 p.m. central time: Registration for 2021 Grandma's Marathon weekend races opens.
Grandma's Marathon: Limit 4,000 runners until further notice
$110 • Oct. 1-11, 2020
$125 • Oct. 12 – Dec. 31, 2020
$135 • Jan. 1, 2021 – March 31, 2021
$145 • April 1, 2021 – June 1, 2021
Garry Bjorklund Half Marathon: Limit 4,000 runners until further notice
$100 • Oct. 1-11, 2020
$115 • Oct. 12 – Dec. 31, 2020
$125 • Jan. 1, 2021 – March 31, 2021
$135 • April 1, 2021 – June 1, 2021
William A. Irvin 5K: Limit 1,500 runners until further notice
$35 • Oct. 1-11, 2020
$45 • Oct. 12 – Dec. 31, 2020
$50 • Jan. 1, 2021 – 

June 1, 2021
*If virus conditions don't improve and 2021 in-person events are cancelled, in-person registrants will be converted to virtual participants and will receive a 40% discount that can be used for 3 of the following years:
June 18, 2022
June 17, 2023
June 22, 2024
June 21, 2025
June 20, 2026 (50th anniversary)
The 40% discount codes can only be used once per year, and may be applied to the marathon, half marathon or 5K. The discounts are not transferrable to another person.
*A virtual registration option will be available for each race from Oct. 1, 2020 – June 1, 2021 at the lowest price tier for that race. The discount codes will not apply to virtual registrants if in-person events are cancelled.
"Taking care of our participants has always been and will always be our top priority," says Bauer. "COVID-19 admittedly caught us all off guard. We've been making adaptations since March to help avoid such an unexpected circumstance in the future, with a focus on the impact it had on our registrants." Last year's registrants were informed that they would be receiving a higher discount than initially promised as well.
Now the focus will turn toward reshaping the entire Grandma's Marathon weekend celebration around all the different possibilities. The staff at Grandma's Marathon will be analyzing every facet of the weekend to determine risk and safety measures, considering everything from crowd science to sanitization protocols. At the same time, the organization will be watching this virus as close as anyone with a direct line to their Medical Director and local infectious disease experts at Essentia Health, a major sponsor of Grandma's Marathon.
Updated information will be shared on the Grandma's Marathon web site as circumstances change, and an in-depth FAQ page will emerge as the most common questions from registrants are identified.
In addition, Grandma's Marathon has updated its long-standing, traditional logo going into its 45th year. Deemed a 'long overdue' update by the organization, runners will notice a women's division runner among the men in the traditional Grandma's Marathon logo. The traditional logo is based on that of the original, founding sponsor, Grandma's Restaurant Corporation. The old and the new are both included below for reference.
Grandma's Marathon is presented by Toyota, Members Cooperative Credit Union, and ASICS. For more information and to register for Grandma's Marathon events, visit GrandmasMarathon.com.