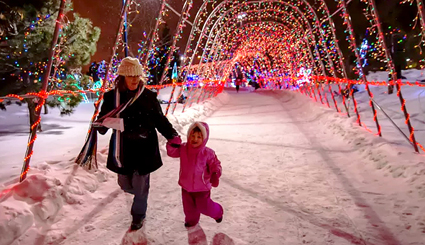 Bentleyville Tour of Lights 2016
November 19th – December 26th.
Sunday – Thursday 5:00 pm – 9:00 pm
Friday & Saturday 5:00 pm – 10:00 pm

What is Bentleyville "Tour of Lights"?
Bentleyville is America's largest, free walk-through Christmas light display. It's situated on the shore of Lake Superior in Bayfront Festival Park of Duluth. Every year, in November and December, over 4 million lights are lit for guests to stroll through. The event offers complimentary hot cocoa, cookies, popcorn, and roasted marshmallows for attendees to enjoy. Mrs. Claus is on site, telling stories and handing out candy canes, while Rudolph is available for taking photos. Children can also visit with Santa to share their wishes. Kids 10 and under receive a free knit Bentleyville hat from Santa.
While Bentleyville is free, donations are welcome and much appreciated. Visitors are encouraged to bring a new unwrapped toy or non-perishable food item for the Salvation Army as well.
Bentleyville is open on holidays. The display is handicapped accessible.
Parking
Parking is available directly in front of Bayfront Festival Park or at the DECC and Great Lakes Aquarium for a $5 fee. There are parking lots and street parking available throughout Canal Park and many downtown parking ramps and meters are free after 5:30 pm.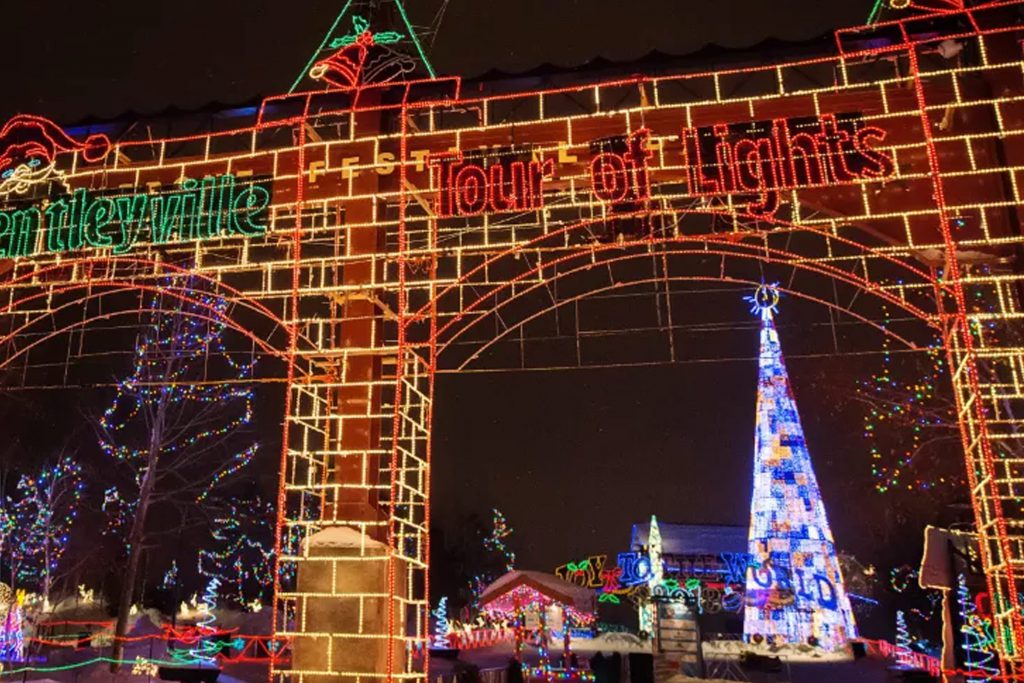 What to Expect
Weather can be quite cold and windy coming off of Lake Superior. Be sure to dress warmly, especially if you plan on standing in line for Santa.
You are welcome to take photos and are encouraged to do so. Keep in mind that cold weather can drain batteries fast.
Bentleyville takes approximately 30 minutes to 1 hour to walk through depending on the weather, how long you stop to warm at the fire pits, and if you plan to stand in line waiting for Santa.
There is a Lost and Found and gift shop on site.
Bentleyville may close down due to weather. The decision is typically not made until 3 pm of the day in question. Any closing will be prominently displayed on their homepage.
Interesting Facts & Helpful Tidbits
Every year before Bentleyville opens for the season, they sell caramel, milk chocolate, and crisp chocolate bars at local Holiday Stations and stores. A handful of random chocolate bars contain winning Golden Tickets for various prizes including gift cards, Bentleyville merchandise, and trip packages.
Add a name to Santa's naughty or nice list with a $5 donation. The lists are updated online weekly and are posted each Thursday near the Santa line at Bentleyville.
The Christmas Tree makes up one of the focal points of the lighting display. It's 128 feet high and is built from 17 tons of iron. At its peak is an 8′ ball with 28 3′ spikes. It is lit with 150,000 LED lights.
On Wednesday, November 9th, Bentleyville will be hosting a Free Family Event night. Anyone who brings a non-perishable food item or new, unwrapped toy will receive entry inside the 128′ Bentleyville Tree.
Bentleyville Tour of Lights is paid for by donations and sponsors from local area businesses.
In 2015, Bentleyville used 30 cubic yards of kindling and 250 cubic yards for firewood in its 20 fire pits.
History of Bentleyville
Nathan Bentley first started decorating his Esko, MN home in 2001 for the holiday season. Over the next two years, he continually added more holiday lights to his display and changed it from a "drive by" to a "walkthrough" display in 2003, with Santa Claus visiting on the weekends.  Nathan's friend sarcastically started referring to his house as Bentleyville -referencing Dr. Suess's town of Whoville. The name caught on with visitors and "Bentleyville Tour of Lights" was officially born.
In 2004, Nathan and his family moved to rural Cloquet, MN. To entice people to drive out into the country, Nathan began to grow Bentleyville with larger displays, more lights, complimentary treats, fire pits, and daily live entertainment. After 2 short years, Bentleyville outgrew its location as traffic became congested with nearly 35,000 people visiting. Nathan decided to build parking lots and bus people into the event through 9 hired school buses.
In 2008, Duluth City Mayor Don Ness's office reached out to Nathan about the possibility of hosting Bentleyville "Tour of Lights" at Bayfront Festival Park. Nathan accepted the 1-year trial invitation and formed a 501c3 non-profit organization. He then set to work with his original team of 25 people to plan for a Christmas light show needing 10+ weeks of setup and over 600 volunteers throughout a 37 day period.
On Friday, November 27, 2009 Bentleyville "Tour of Lights" officially lit its lights for the first time in Bayfront Park. Over 150,000 people visited and enjoyed the display that year.
In January of 2010, Bentleyville announced it had made a commitment to return to Bayfront Park. The holiday light show has been growing in displays, size, and attendance since.
Volunteers
Starting in late September, hundreds of volunteers are needed to help setup Bentleyville. Volunteers 16 years of age and older can show up Saturdays and Sundays from 8:30 am – 4 pm and Wednesday nights from 5-8 pm.
Many volunteers are also needed once Bentleyville goes live. There are a variety of jobs available to volunteer for.  Job descriptions and a volunteer sign-up calendar can be found on their website. Job position examples include manning the marshmallow hut, being a parking lot attendant, acting as Santa's helper, and being a costume character. Volunteers are expected to arrive at Bentleyville at 4 pm. There is free parking in the staff lot in front of Playfront Park.
What's your favorite part of Bentleyville? Share with us in the comments below!
Also, we'd love to see your photos, Share with @canalpark on Instagram.