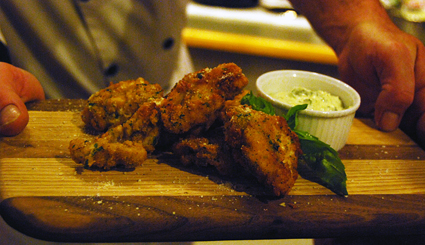 Nestled in the Dewitt-Seitz building in Canal Park is the Blue Heron Trading Co. Blue Heron is a locally owned shop well known for its unique selection of housewares, gourmet kitchen tools, and cooking flavors & spices. Another superb feature of Blue Heron is their fall and spring cooking classes offered right in their store! To improve our cooking skills, we attended one of their classes to bring you the full scoop.
On a lovely fall evening in October, we attended the Blue Heron's Fresh Fish cooking class with guest chef, Patrick Moore. During the course of our 2-hour program we laughed, we learned, and we sampled some really tasty food!
Upon arrival at the Blue Heron, we were pleasantly greeted by staff and offered water, tea, or coffee. Sitting at each spot around the kitchen demo space were recipe cards for the evening, plus a napkin -spoiler alert > hello forthcoming food!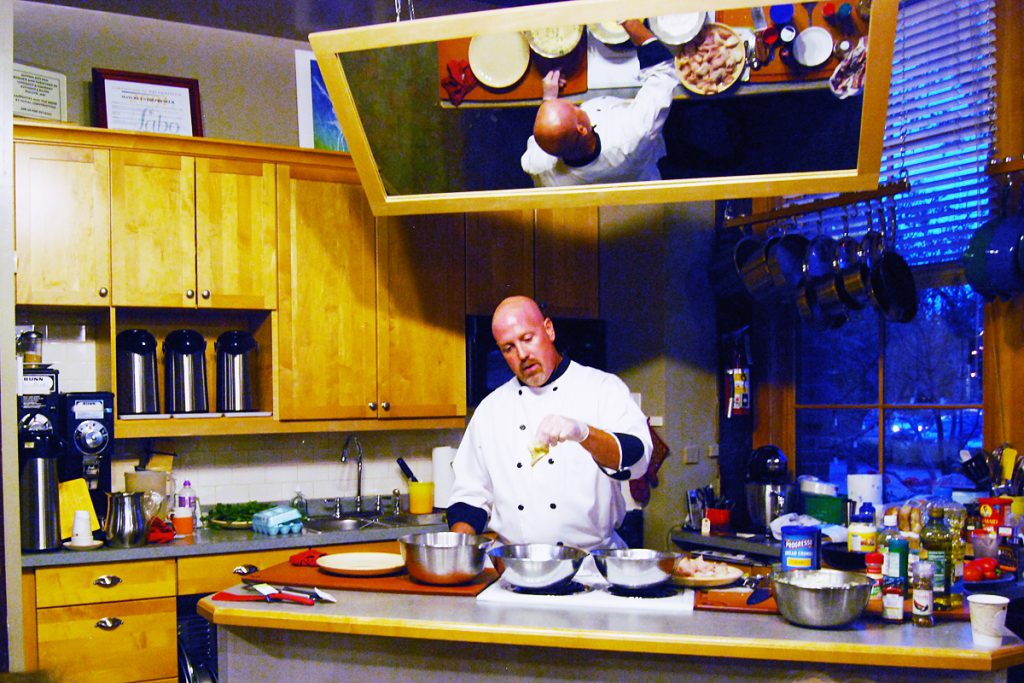 Fried Panfish with Pesto Dipping Sauce
For our first lesson of the evening, we watched Chef Patrick prepare a fried panfish with pesto dipping sauce. He prepared the pesto sauce first, to allow the flavors to combine. During this process we learned that salts, acids, and vinegar actually excite the taste buds, allowing us to taste better -thus the reason why many recipes will call for ingredients such as lemon juice. If you'd like to make your pesto sauce healthier, feel free to sub all or part of the mayo for greek yogurt. The same goes if you'd like to make it a little richer; sub sour cream instead.
When it's time to bread you fish, set up an assembly line of flour, eggs, and bread crumbs in separate bowls. This process is easier to clean up if you wear gloves and keep one hand dry and one hand wet –only use one of your hands for the egg wash stage. This will keep you from breading your own hands as you go. To prevent clumping, only add dry herbs to your bread crumbs. The key to frying good fish is a hot pan and oil. Placing fish in oil that isn't hot enough will cause it to stick to the pan and become mushy.
Spicy Grilled Fish Sandwich with Dill Cream & Pineapple Slaw
We had a 10-minute intermission after our panfish and pesto dipping sauce were prepared. Upon returning to the kitchen we were greeted with sample plates to taste test. The fish was moist and the pesto sauce was fresh, cool, and pleasantly tangy. As we enjoyed our sample, Chef Patrick began our second demonstration of the evening; spicy grilled fish sandwich with dill cream and pineapple slaw.
He first prepared the marinade to give the fish time to soak in the flavors. While the fish marinaded he prepared the dill cream sauce and pineapple coleslaw. The slaw is a dish you don't want to make more than 2-3 hours ahead of time, as it'll start breaking down and become runny.
When placing your fish in the pan to fry or sear it, always remember to set it lightly and away from you in the pan to prevent oil from splashing back at yourself. I think the spicy grilled fish sandwich was my favorite dish of the evening. It had a bold flavor without being overpowering. The pineapple slaw had a great blend of flavors including both crunchy and chewy textures.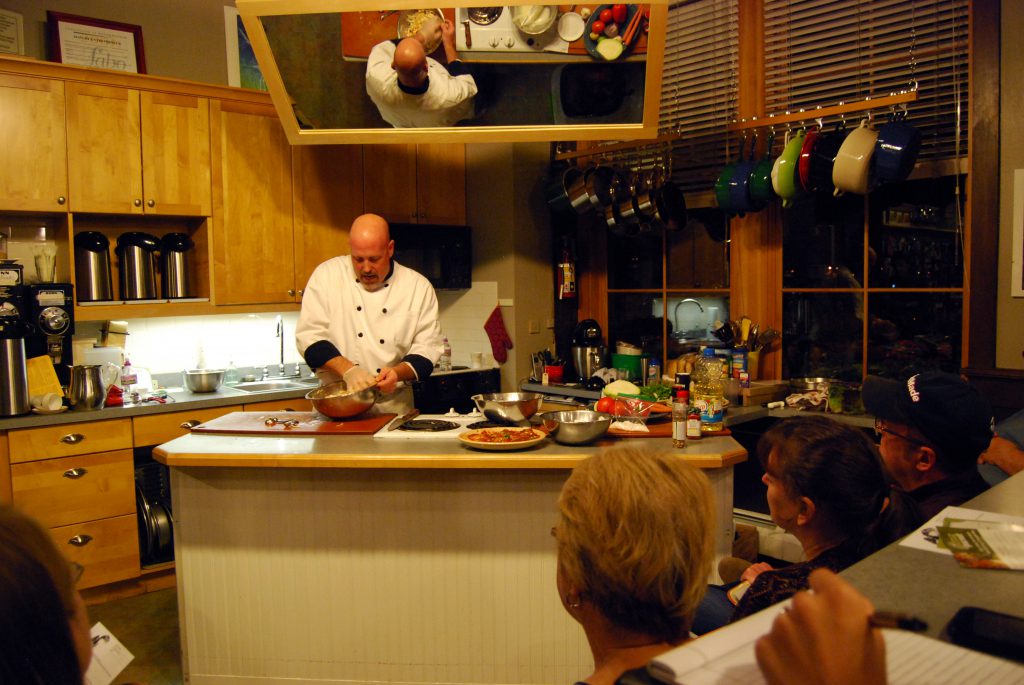 Helpful Cooking Tips & Tricks from Chef Patrick Moore
When it comes to recipes, follow the KISS rule: Keep it simple & sweet. The goal is to create great tasting food while also spending more time with those you're cooking for.
Be prepared: Read the whole recipe before you start to ensure you have all the ingredients on hand and enough time to complete all cooking steps. Remember the French term, Mise en place ("everything has its place") -set your kitchen up prior to cooking to organize and arrange ingredients, spices, and cooking components you will need.
The quality of your end product depends upon the quality of the ingredients you put in.
Remember! You can always add more [of a spice] but you can't take it back out. Start with less, then add based on your tastes.
Always keep your knives sharp. This will help you cut things easier.
To easily peel garlic, place your clove under the flat edge of your chopping knife (turn your knife sideways instead of up/down). Apply a quick burst of pressure to "pop" the clove. Always be cautious of the blade.
To remove the smell of garlic from your hands, take a stainless steel blade and run it under cold water from the faucet. Run your fingers over the wet knife to remove the scent.
For the best flavor and richness use pure olive oil for cooking. Save the extra-virgin stuff for salad dressing.
If you accidentally get a piece of an egg shell in your bowl, use the SAME egg shell the piece came from to easily scoop it out.
When pan frying, don't overcrowd the pan. You want your oil to keep its temperature and room to work with your fish (or whatever you're frying).
Spices retain their flavors in their own essential oils. Leave them whole until it is time to use them.
If you have to use dry spices instead of fresh, the general rule of thumb is that you'll need 2x the amount to achieve the same effect. Dried spices generally last 6-8 months in the cupboard.
Old onions are the ones that make you cry. It's the sugar in them that begins to ferment that causes the effect.
If you want fluffier eggs, whip your eggs with water. If you want richer eggs, whisk them with milk.
Consider contrast, color, shape, and height when plating food.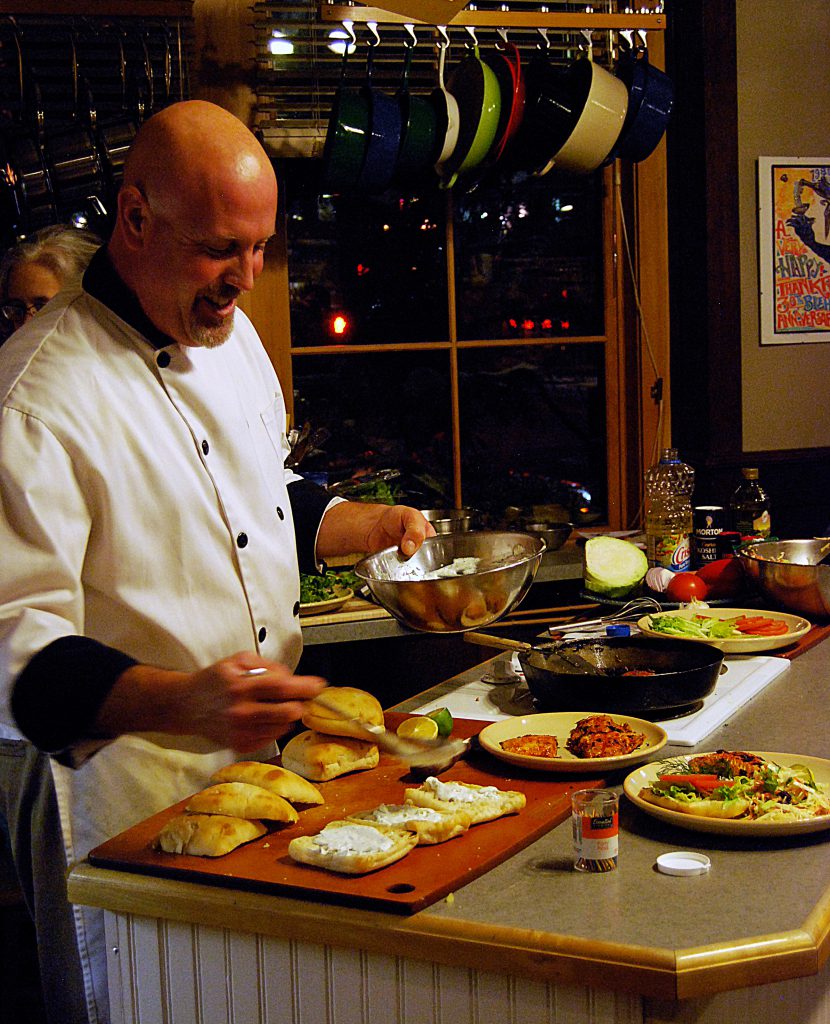 A Little about Chef Patrick Moore
Chef Patrick Moore currently works as the Food Service Director for the Ashland school district. He also serves as the Getaway Gourmet chef at the Lake Home & Cabin Show. Chef Patrick has a real passion for cooking; which was quite evident during our cooking class. During his college days, Patrick would cook food for his fraternity. He found it very rewarding when all his frat brothers enjoyed his cooking and provided positive feedback. This led him to take up cooking as a career. He attended culinary school in Portland, Oregon and has been cooking for the past 17-18 years since.
Interested in attending a cooking class at the Blue Heron yourself? Cooking classes are only $30 per person. You can register in-store or over the phone (218-722-8799)s. On the day of the class you will receive a coupon good for a 10% discount. Upcoming and past cooking classes have covered soups, bread, comfort food, side dishes, international cuisine, and more.
Want to ensure you never miss unique events and activities like this one in the Canal Park area? Sign-up for our email newsletter now!