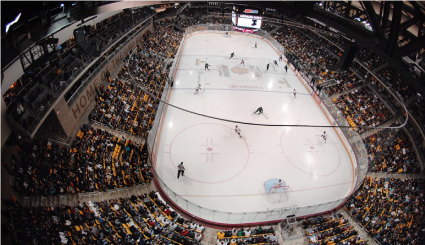 As the weather gets cooler and the leaves begin change that can only mean one thing -college hockey season is coming! Gear up and get ready because we had a chance to discuss the upcoming UMD Bulldog hockey season with Carson Soucy, a senior defenseman and assistant team captain for the Bulldogs.
Carson is originally from Irma in Alberta, Canada; a small town of about 500 people. Hockey is definitely in Carson's blood. He grew up in a hockey family and has been skating since he can first remember. He started playing competitive hockey from an early age and quickly fell in love with the game. What drew him into the game was all the people and friends you're able meet and the places he gets to travel to. It was the atmosphere, adrenaline, camaraderie, and constant activity that made the game tough to beat. As a young, budding player, he idolized Scott Stevens, a defenseman for the New Jersey Devils.
UMD Bulldog Hockey Training & Practices
Think you know what it takes to play on the team? If you guessed lots of hard work, then you'd be correct. The team practices Monday-Thursday. Fridays and Saturdays are devoted to game day warm-ups and mental preparation. A typical week of training starts with 2 days of workouts in the gym followed by a day of conditioning. Thursdays typically involve yoga which helps prevent injury by loosening the players up, strengthening their cores, and improving their flexibility.
Trainings also include daily skating. Earlier in the week the skating practices are more high-paced. The players do lots of work up and down the ice and work on individual skills such as battling. By the end of the week, the focus of their skating practices shift to more team-based structure drills. During these practices the players will work on system drills, including power plays and forechecking, to fine tune systems that'll win upcoming games.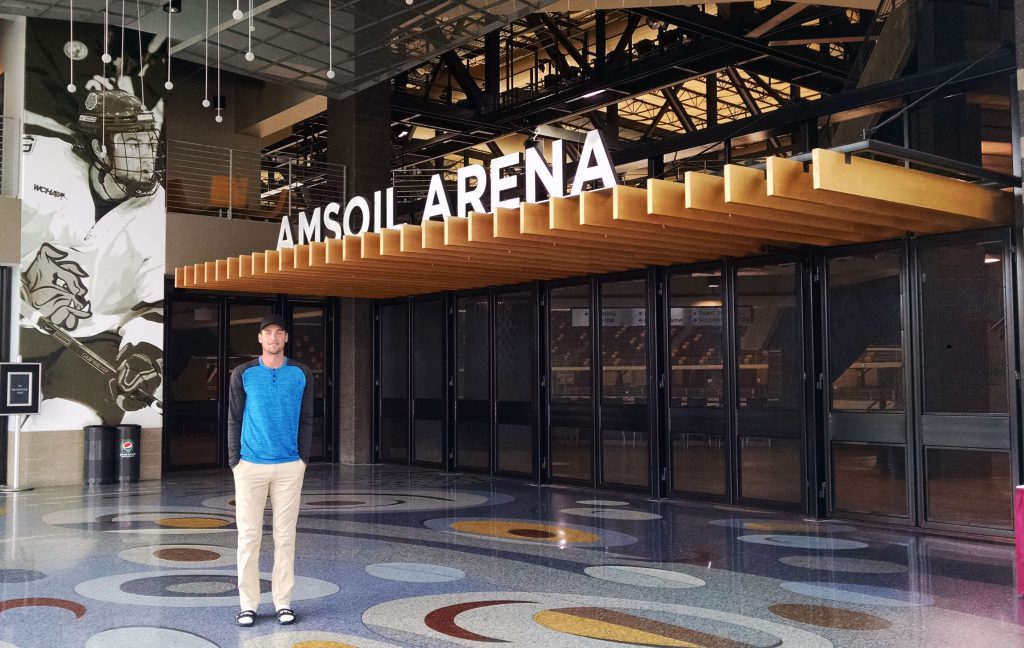 Upcoming Bulldog Hockey Season
Carson is very excited for the upcoming season and feels the bulldogs have a good group of young guys this year. The past few years the UMD hockey team has been older and successful, but this year he feels they have some young guys that are going to come in and make a pretty big impact early. When asked about stand out players he foresees a leadership role for in the coming years he responded that it's tough to say without their first games under their belts yet. He's confident about, and excited to see how strong their new goalies, Shepard & Miska, come into the season. He also mentioned Joey Anderson and Riley Tufte. Once they get the pace down, he feels they'll bring physical game and thinks they'll step it up nicely too.
The team is looking forward to the hard games this season, especially North Dakota and other strong teams in their league including Denver and St. Cloud. Of course they always look forward to playing their big rival, the Gophers too. These games always draw big, enthusiastic crowds. Unfortunately UMD and the Gophers will only face off once this year. Personally, Carson is also looking forward to the Miami match-up. Last year UMD beat Miami in the playoffs and he's eager to face them again.
Game Day Rituals
The team practices hard all week and when Friday comes it's game day! Game day rituals are pretty routine. The team starts by skating in the morning then they all go for a team meal. Often before or after lunch the team will review footage of last week's game or check out the opposing team. In the afternoon the players relax and recoup by taking a nap. Around 4:30 they head down to the arena and do their own thing to prep before game time -this often includes activities like stretching, ping-pong, and/or biking. Each player is mentally focused on the upcoming game and what they can do to help the team throughout the entire day. The mental prep is just as important as the physical prep according to Mr. Soucy.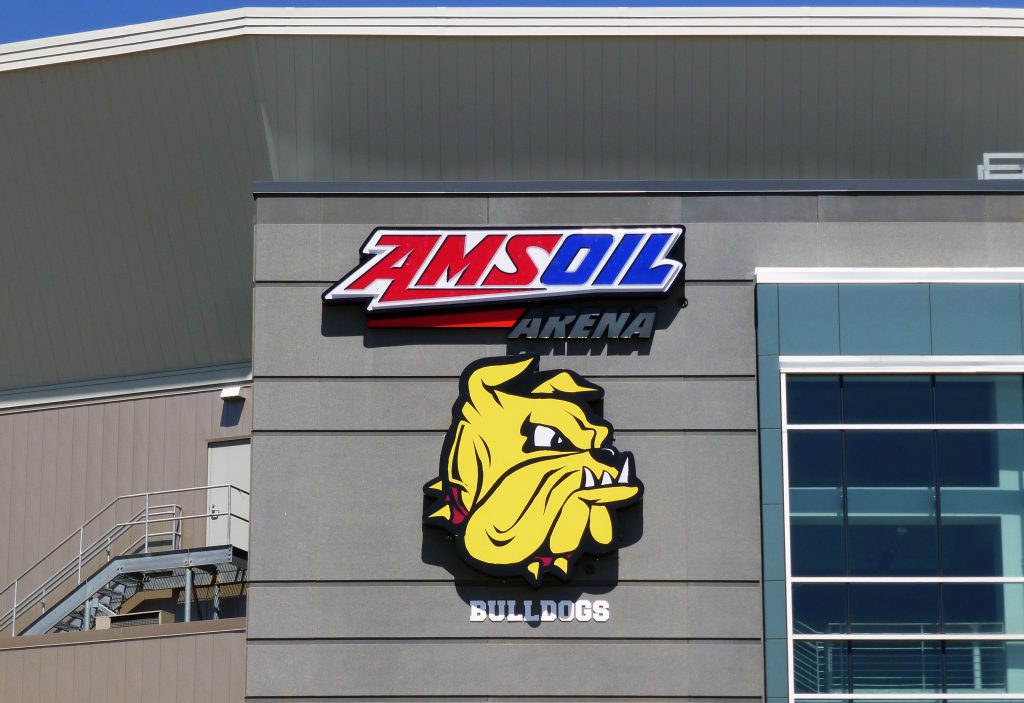 2016-2017 Game Schedule
10/1/2016
Michigan Tech
Duluth, MN
7:07PM
10/2/2016
Michigan Tech
Duluth, MN
4:07PM
10/7/2016
UMass-Lowell
Lowell, MA
6:15 PM (CT)
10/8/2016
UMass-Lowell
Lowell, MA
6:00 PM (CT)
10/14/2016
Notre Dame
Duluth, MN
7:07PM
10/15/2016
Notre Dame
Duluth, MN
7:07PM
10/22/2016
U.S. National Under-18 Team
Duluth, MN
7:37PM
10/28/2016
North Dakota
Duluth, MN
7:07PM
10/29/2016
North Dakota
Duluth, MN
7:07PM
11/4/2016
St. Cloud State
St. Cloud, MN
7:37PM
11/5/2016
St. Cloud State
St. Cloud, MN
7:07PM
11/11/2016
Western Michigan
Duluth, MN
7:07PM
11/12/2016
Western Michigan
Duluth, MN
7:07PM
11/18/2016
Nebraska Omaha
Omaha, NE
7:07PM
11/19/2016
Nebraska Omaha
Omaha, NE
7:00 PM
12/9/2016
Denver
Denver, CO
TBA
12/10/2016
Denver
Denver, CO
TBA
12/16/2016
Bemidji State
Duluth, MN
7:07PM
12/17/2016
Bemidji State
Bemidji, MN
7:07PM
1/6/2017
Colorado College
Duluth, MN
7:07PM
1/7/2017
Colorado College
Duluth, MN
7:07PM
1/13/2017
St. Cloud State
Duluth, MN
7:07PM
1/14/2017
St. Cloud State
Duluth, MN
7:07PM
1/20/2017
North Dakota
Grand Forks, ND
7:37PM
1/21/2017
North Dakota
Grand Forks, ND
7:07PM
North Star College Cup
1/27/2017
Minnesota
St. Paul, MN
7:00PM
1/28/2017
Bemidji State/St. Cloud State
St. Paul, MN
4:00PM/7:00PM
2/3/2017
Nebraska Omaha
Duluth, MN
7:07PM
2/4/2017
Nebraska Omaha
Duluth, MN
7:07PM
2/17/2017
Colorado College
Colorado Springs, CO
8:37PM (CT)
2/18/2017
Colorado College
Colorado Springs, CO
8:07PM (CT)
2/23/2017
Miami (OH)
Duluth, MN
7:07PM
2/24/2017
Miami (OH)
Duluth, MN
7:07PM
3/3/2017
Western Michigan
Kalamazoo, MI
6:00 PM (CT)
3/4/2017
Western Michigan
Kalamazoo, MI
6:00 PM (CT)
NCHC Tournament
3/10-11/2017
NCHC Playoffs (First Round)
TBA
TBA
NCHC Frozen Faceoff
3/17-18/2017
NCHC Frozen Faceoff
Minneapolis, MN
TBA
NCAA Tournament
3/24-25/2017
NCAA Regionals
TBA
TBA
NCAA Frozen Four
4/7-8/2017
NCAA Frozen Four
Chicago, IL
TBA
The Fans -An Important Part of Any Game
Let's be honest, without the fans, hockey just wouldn't be hockey. But if you're still wondering why you should come out to the Amsoil Arena this year, take it straight from Carson; "A couple reasons…We're going to be fun to watch, I think we're going to have pretty good skill this year…we always play with a lot of speed. I think fans enjoy the way we play…we play with speed, we play physical. And I think we're going to have a good team. You always want to come watch a good team that wins games and I think that's going to be us this year. Hopefully we can get over that hump and get to the Frozen Four and hopefully bring a national championship here."
The fans are an important part in getting the team pumped up for a game and keeping them going after a big goal. The team's excitement level is proportional to the size of the crowd – larger is better. Mr. Soucy also gives props to UMD's student section. Their loudness, how into the game they can be, and their dedication is great, he says. When the students (and fans) show that they're into the game, oftentimes by showing up to the arena nearly as early as the team, it's hard not to want to put on a good show for them, Carson reports.
If you've never been to a game then this season is the perfect opportunity.  For anyone unsure, here's what Carson has to say to you, "I think once they see it they wouldn't be disappointed, It's tough to beat. I mean we have one of the nicest rinks in college and when our students are there we have a great student section. It's tough to beat that atmosphere. Once you come here and once you see that…Not many people don't enjoy it."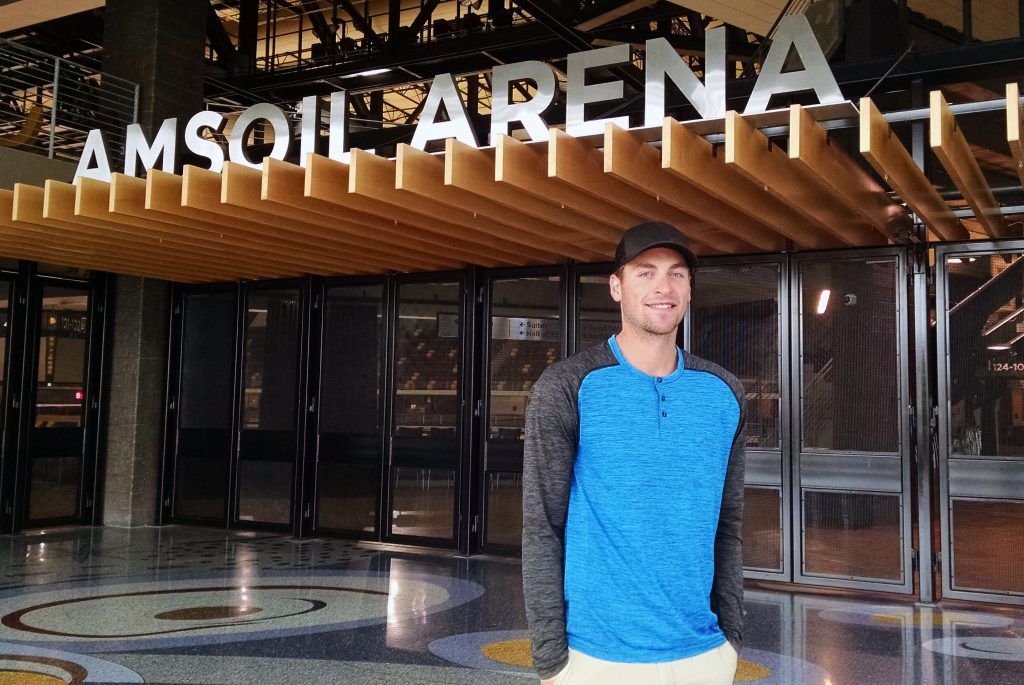 More About Carson Soucy
Prior to UMD, Carson played for the Spruce Grove Staints in the Alberta Junior Hockey League. About halfway through, UMD coaches, Scott Sandelin and Jason Herter, approached Mr. Soucy. After getting to know them both, Carson decided to visit Duluth. He saw Amsoil Arena, which was practically new at that time. After subsequently falling in love with the city, the UMD campus, and Lake Superior he decided that Duluth would be a fun place to play. Since being here, Carson says that his favorite part about Duluth is that there's always something to do!
Carson's favorite part about playing in Amsoil Arena is the student section and the fans.  He says there's nothing quite like coming out for a game; seeing and hearing the loud and excited fans. It really pumps him and the team up.  He also believes Amsoil Arena is one of the best facilities in college. Some of his other favorite arenas to play at include North Dakota's Ralph Engelstad (which is a top facility with great fans too), the Minnesota Gopher's Mariucci (playing in a 'hostile' environment where the fans are really against him gets him even more excited), and Western Michigan (which he feels is underrated and loves their loud student section).
One of Mr. Soucy's favorite goals occurred during his 1st year with UMD vs Mankato. The defensemen had been going through a goal drought, so they had a little bit of a bet/joke going on who would score the 1st goal. That goal ended up coming from Carson and for him it seemed like the weight was lifted off his and the other defensemen's shoulders. He says the mood was so light about it, but at the same time it felt like a pretty big goal.
Being Assistant Team Captain & Looking Towards the Future
When it comes to being assistant team captain, Carson says; "It's a great honor to be [assistant] captain here. You have to get voted in by your teammates…it gives me confidence that my teammates have faith in our leaders. And the coaches do….from a UMD standpoint, it's one of the better programs in college hockey to be an assistant for -it's pretty special coming from a small town in Irma, Alberta…you wouldn't picture this when I was growing up, so it's pretty special to be here and to be assistant captain in my fourth year, coming back wanting to win, it's pretty special."
Thus far the role has not been too challenging because UMD has a good group of guys this year. Being assistant team captain does mean more responsibility though. It's important that Carson be a leader and be a positive for force the team, but it's also about knowing when to be firm with them.
His biggest motivation this year is winning the national championship and making it to the Frozen Four. Future motivations pertain to what can he do after this season. He says it's tough to take time off because you always have to be ready and are always wanting to be better. He would love to continue his hockey career after graduating from UMD, but isn't sure what he will do. He has attended Wild camps the last 4 years and he's hoping for a strong season this year to help launch the next step in his career.
The first game of the UMD Bulldog hockey season starts October first against Michigan Tech.  Don your maroon, gold, and bulldog apparel to cheer on Carson and the rest of the awesome Bulldog hockey team this season.  Get your tickets now!
By Jessica Carl