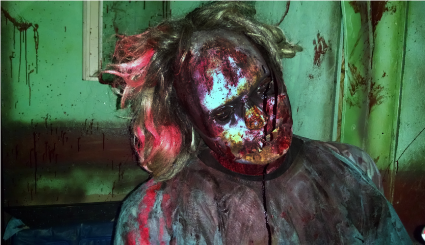 The Duluth Haunted Ship
History
The Haunted Ship began in Duluth in 1992. Before the Haunted Ship started, the William A. Irvin was open for regular boat tours during the month of October. Historically, this month was really slow and the DECC needed a way to generate more revenue during this quiet month. Having heard about a failed attempt by Cleveland's William G. Mather trying to become a haunted ship, the DECC decided to try their own hands at a haunted attraction. The William A Irvin partnered up with UMD to give the school's drama department some experience on production and acting. Needless to say, their attempt was a huge success. More than 2 decades later, the Haunted Ship is the peak of the Irvin's yearly business.
The DECC continued to partner with UMD for the first 3-4 years of the Haunted Ship before everything was brought in-house. The Haunted Ship was the original and first haunted "house" in the Duluth area. One of the favorite themes throughout the years has been the Zombie haunt from 2012 -around the time The Walking Dead became popular.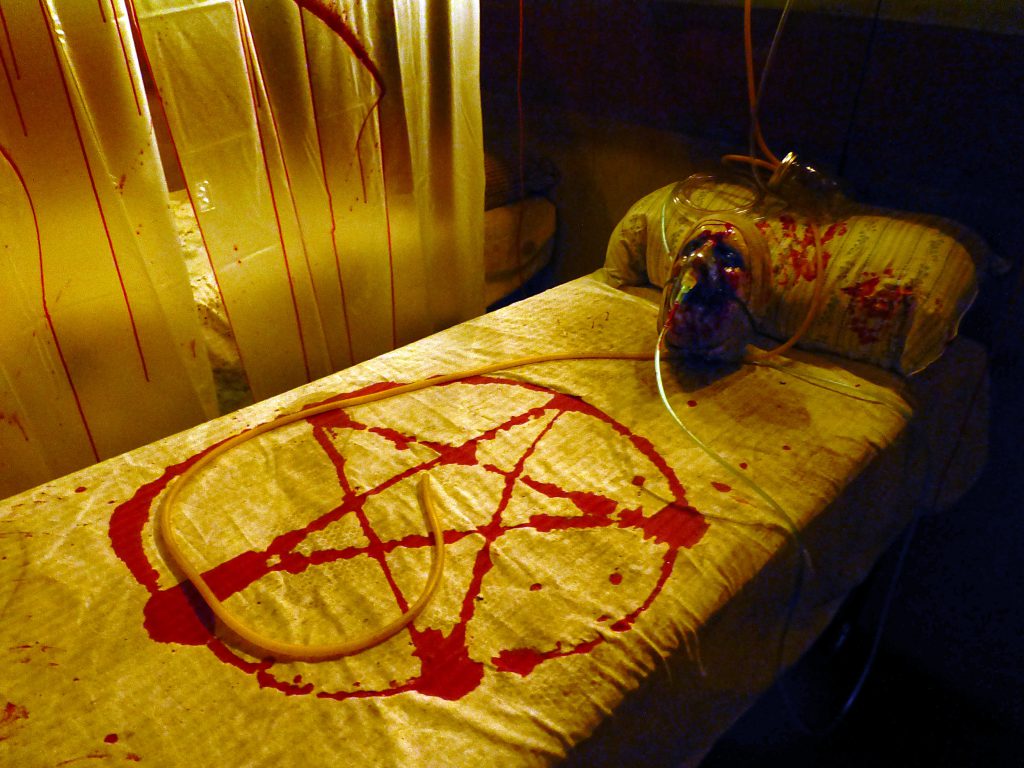 Making the Haunted Ship Come to Life
Bringing the yearly haunt to life is a never ending, year-round process. In fact, at the time of my interview with some of the crew (which was 2 weeks before this year's haunt) they said that they were already starting to think about next year! The Haunted Ship is coordinated by a core group of roughly 6-7 people. Their process begins with lots of brainstorming, plus research on what currently scares people -dark places? claustrophobia? spiders?
Early December is when they really start discussing ideas for next year, including what worked and didn't work the past year. Once they have an idea they'll design the rooms; everything from lights, audio, to smells –What will it look like? What props does it need? How many actors can it hold? What kind of budget will it take? They start building props as soon as they know what they need and the heavy building starts in June. They do have some of the wall structure setup year-round, but some parts must be removed to allow regular boat tours to operate. The last few weeks before the haunt opens is spent detailing.
When it comes to making props and building sets, the crew is always on the look-out for great finds. They regularly frequent Goodwill, local thrift-stores, and garage sales to find clothing and great materials to repurpose. A number of items, like fake blood and lights, are ordered from prop stores like Fright Props. Professional quality makeup is purchased from brands such as Ben Nye. They also take donations from the public.
The Scaring
Jump scares are still the best according to the crew. They are an oldie, but a goodie technique. Team scares are another good one for getting people and are a favorite among some of the actors. As mentioned, the crewing is always researching the best ways to scare people. Claustrophobia has been a big one in recent years. They have also been experimenting with scent the past couple years to achieve the sensory trifecta -sight, sound, scent.  -For example, during last year's haunt they had a fancy dinner party setup. All the people and the food in the room were rotting and decaying -that was the visual aspect. The auditory aspect included classical music and flies buzzing. The smell factor? You guessed it -of rotting decay, slaughterhouse and food.
They greatly enjoy doing this work and they're always working to advance the haunt and scare more people, not necessarily gross them out, but scare on a higher level each year. The crew has also placed a focus on extending the experience beyond the tour. They want to keep people thinking about the haunt after they've left the ship; to keep the thrills and chills going. To continually improve and gather feedback, they conduct surveys every year to gain greater insights into what worked and what didn't translate.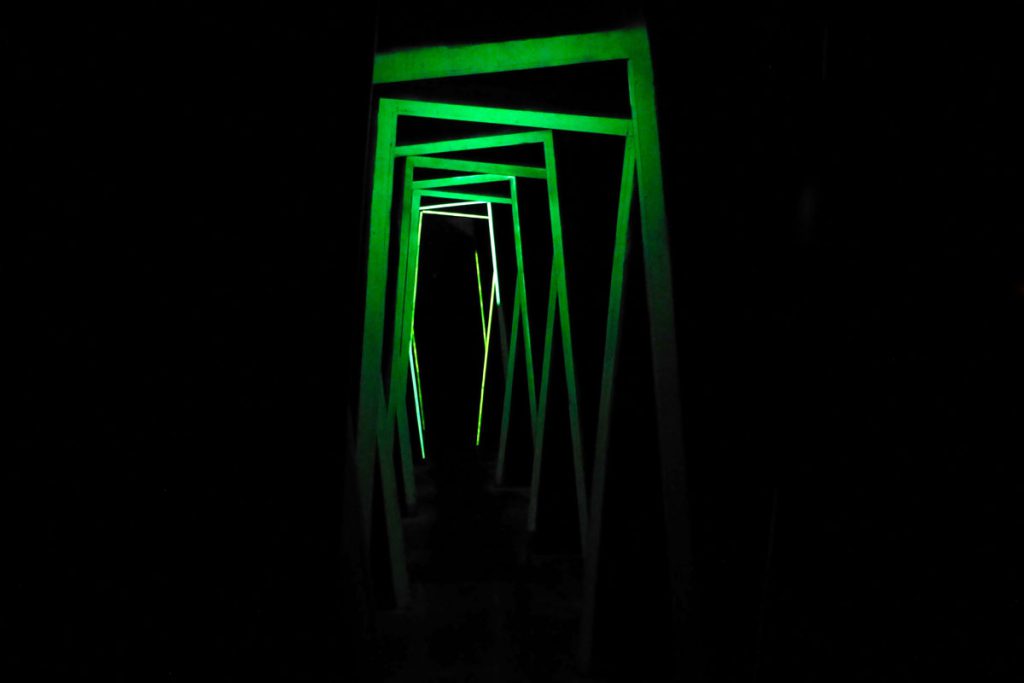 The Personnel
As I mentioned already, there is a core group of 6-7 people who work on the Haunted Ship -they decide on a theme, conceptualize the rooms, gather materials, etc. Surprisingly enough, these people all have other jobs aside from their work on the Haunted Ship. In addition to this core group the DECC hires a full-time Coordinator for the Haunted Ship, plus they hire a handful of lead actors and a couple makeup artists for the month of October.
Volunteers
The majority of the Haunted Ship's personnel are actually volunteers! On any given night, they like to have 50-60 volunteers aboard the ship helping to scare people. Anyone over the age of 14 can show up any night the haunt is running (approximately 2 hours before open) to volunteer. They report that they've had volunteers show up every night of the season, while some volunteers decide to only come one night. While no experience is required, they do offer 2 acting training classes throughout the year for people to attend -which they highly recommend.
Upon showing up, you'll need to sign a waiver, then you'll be assigned a spot and get your makeup and costume. You'll be given a quick run through of the do's, don'ts, and tips on scaring. The 2 acting classes actually offer in-depth seminars on these topics for people to learn. The classes also include dry runs where coordinators will walk through the haunt and critique the actors to provide them feedback for improving scares.
The don'ts of haunting include no touching, no scaring around stairs, and no chasing. Safety is a number one priority for both the actors and tour attendees aboard the ship. The do's? Scare everybody and have fun. Volunteers who show up regularly throughout the season are even rewarded at the end based on their level of participation. 'Thank you's' can include free sweatshirts or an invitation to the end of season party.
Class Credit & Volunteer Hours
Any theater students reading this? Whether your're in college or high school, the Haunted Ship can work with your teachers to get you class hours or extra credit for your volunteer time aboard the ship. Being apart of the Haunted Ship is great acting experience that is often different than your normal training.
In the same vain, for those who are civic minded, community service hours can be logged during your time scaring aboard the Irvin.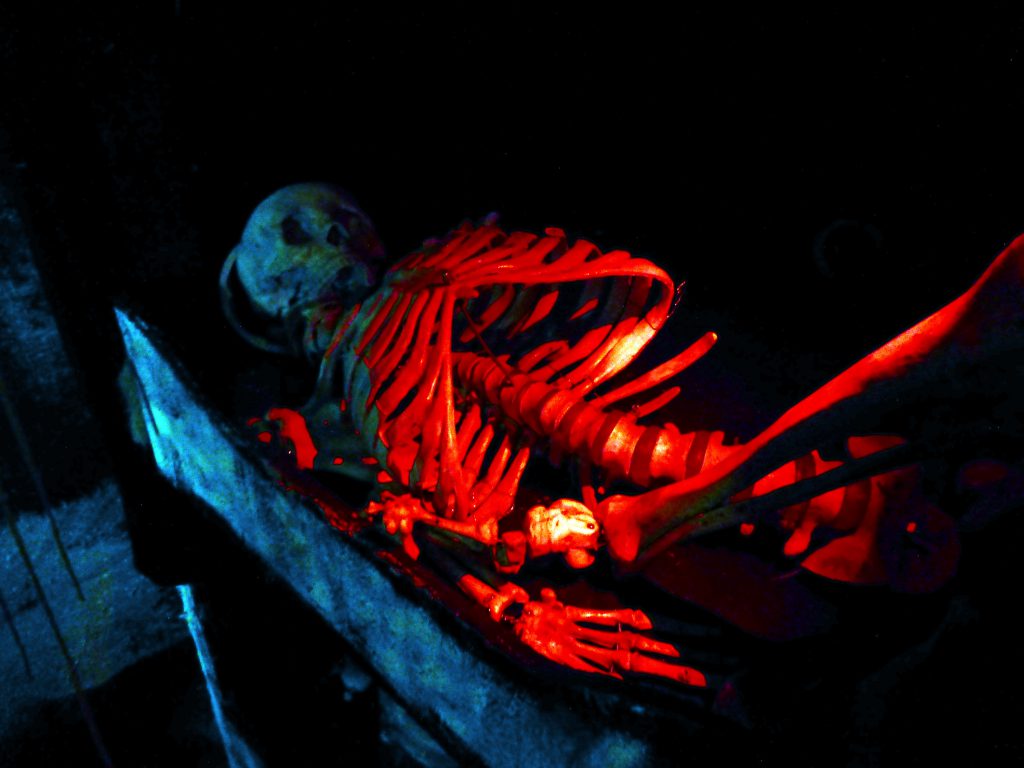 Attending the Haunted Ship
Interested in attending this year's Haunted Ship? Tickets are only $12. This year's theme is 'What the Government Won't Tell You.' This year's theme excites the crew. Unlike some of their past themes, the crew feels the theme this year is more relateable -the topics within the haunt are things people actually think about and something they might actually believe in. As part of my interview, I actually got an exclusive behind-the-scenes preview of the full haunt. While I don't want to spoil too much or give anything away I can say this year's haunted tour is going to be great. They have a lot of exciting, creepy, and experiential elements with some great props!
College students receive a BOGO discount with valid college ID. Tour goers can also receive a $2 discount when donating a canned good. This is an excellent way to support our local food shelf efforts. In fact, there are many years the Haunted Ship brings in over 4,000 pounds of donated food. Let's help them break this record this year!
Who Should Attend & What to Expect
The Haunted Ship is rated PG-13 and is not recommended for anyone 12 and under (anyone under the age of 13 must be accompanied by an adult). Parental guidance is suggested and due to the historical nature of the vessel, it is not handicapped accessible.
Do come wanting to have fun and expecting to be scared! The actors are there to scare you -please do not attend if you don't want to be scared :)
2016 Schedule
Thursday, October 6th 6:30-10:00 pm
Friday, October 7th  6:30-10:30 pm
Saturday, October 8th   4:00-10:30 pm
Thursday, October 13th  6:30-10:00 pm
Friday, October 14th  6:30-10:30 pm
Saturday, October 15th  4:00-10:30 pm
Wednesday, October 19th 6:30-10:00 pm
Thursday, October 20th   6:30-10:00 pm
Friday, October 21st  6:30-10:30 pm
Saturday, October 22nd  4:00-10:30 pm
Wednesday, October 26th 6:30-10:00 pm
Thursday, October 27th   6:30-10:00 pm
Friday, October 28th   6:30-10:30 pm
Saturday, October 29th 4:00-10:30 pm
Monday, October 31st 6:30-11:00 pm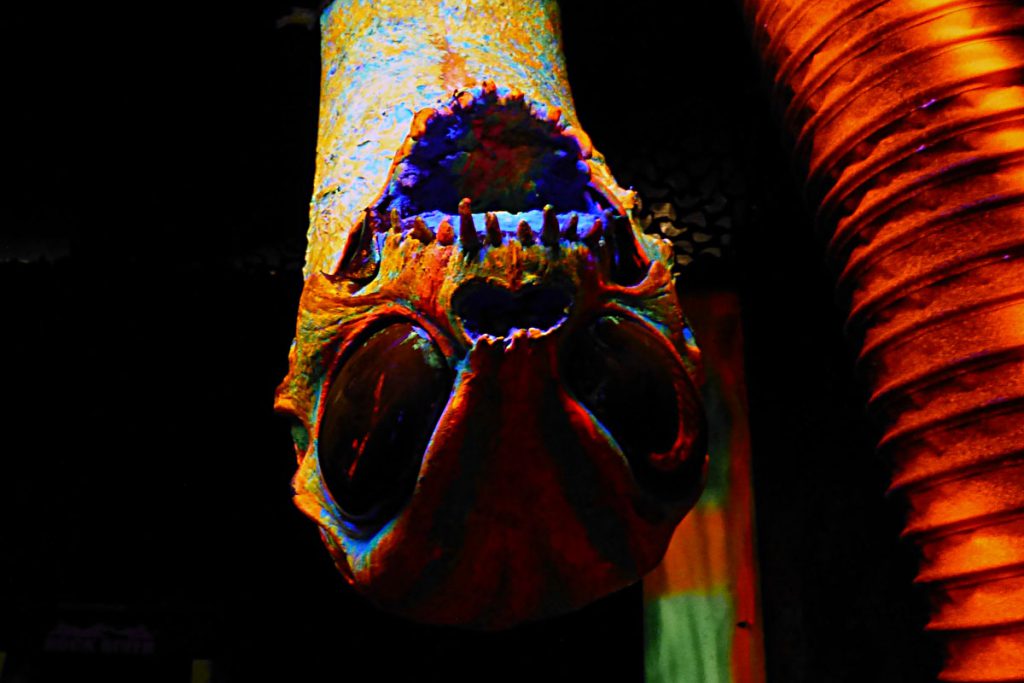 Haunted Places in Duluth -The William A. Irvin
Think the Haunted Ship tour is thrilling and scary? Try real ghosts. There have been numerous stories of paranormal experiences aboard the ship. In fact, a number of paranormal teams have come to investigate. The last paranormal group found 8 different entities on board -including one who spoke Spanish- during their investigation last year. Historically there's only been one death aboard the William A. Irvin. In 1964 there was a boiler room accident. The seaman, William Wuori, was scalded to death by the steam. His ghost is alleged to wander the ship and the crew now refer to him as "boiler room man."
A Ghost Story
Davan, one of the Haunted Ship actors, shared an experience he had two weeks prior to the interview:
He was finishing a regular tour around 5 or 6 pm at night. He had just finished climbing the stairs from the boat's cargo hold and was holding the door, waiting for the last 2 people of the tour to come up and exit the hold. They have a few flags in the cargo hold that hang right next to each other (2 from the Edmund Fitzgerald, one from another boat ). As he stood waiting, he saw a glimmer-like flash about the size of a grapefruit in the hold. It grabbed one of the flags and the flag curled up on its own. The light sat there and pulsed for a few moments. Then, when it disappeared, the flag dropped back down. None of the other flags in the hold moved and there was no one in the cargo hold aside from himself and the 2 tourists exiting..
Other haunt stores include a little girl in a white dress who likes to laugh as well as heavy footprints on deck when no one else is around. Looking for more proof? Check out the investigations from the paranormal teams who have stayed the night on the Irvin. Here's the recordings from the St. Croix Paranormal team:
So, actually haunted, or not? I'll let you be the judge for yourself. You've been warned though…that encounter aboard the Haunted Ship may not be entirely human or of this world.
Have you attended the Haunted Ship before? Which theme has been your favorite?
Are you planning on attending this year? Be sure to share this article with a friend you'd like to attend with!
By: Jessica Carl