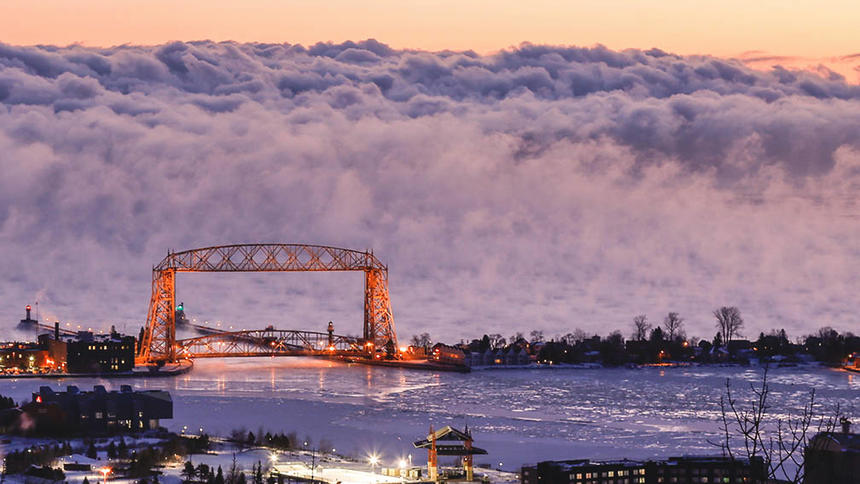 It was quite a remarkable year for Canal Park. As we reach the end of 2016, we wanted to take a moment to look back on some of the more memorable moments from throughout the past 12 months.
Think we missed something? Let us know YOUR favorite 2016 Canal Park moments in the comments.
Rare Ivory Gulls Sighted in Canal Park
Two Ivory Gulls, which are usually only found in the Arctic and Northern Canada and whose population has dropped sharply in recent years, were spotted in Canal Park in January. Bird-watchers from as far as Toronto and New York flocked (no pun intended!) to Duluth to catch a glimpse of the rare gulls.
Duluth Photographer's Shot of Lift Bridge Featured in National Geographic
Local photographer Tim Mlodozyniec's photo of the Aerial Life Bridge, set against a dramatic backdrop of sea smoke, was featured in National Geographic's "Daily Dozen," a sampling of 12 of the best photographs from around the world.
Gaelynn Lea Wins NPR Tiny Desk Contest
Folk musician Gaelynn Lea went from a local artist teaching violin in the DeWitt-Seitz Building to a nationally recognized performer after winning NPR's Tiny Desk Concert, chosen from among 6,100 entries. Since winning the contest in March, Lea has appeared on stage with several national acts throughout the country.
Duluth Lighthouses Added to National Register
While they had long been local landmarks for residents and visitors of Canal Park, the Duluth Harbor North Pier Light and the Duluth Entry South Breakwater Outer Light were officially added to the National Register of historic places in June.
Two Duluth lighthouses added to National Register of Historic Places
The (In)Famous "Giant Rubber Duck" Arrives in Duluth
The world's largest inflatable rubber ducky stole the show at the 2016 Duluth Tall Ships Festival. It was actually something of a homecoming party for "Mama Duck" The duck's owner, Craig Samborksi, and handler, Bob Hom, are both Duluth natives.
And of course, one of our personal favorite moments of 2016 was the launch of CanalPark.com!
Here's to all the wonderful things in store for 2017!
Happy holidays from all of us at CanalPark.com!