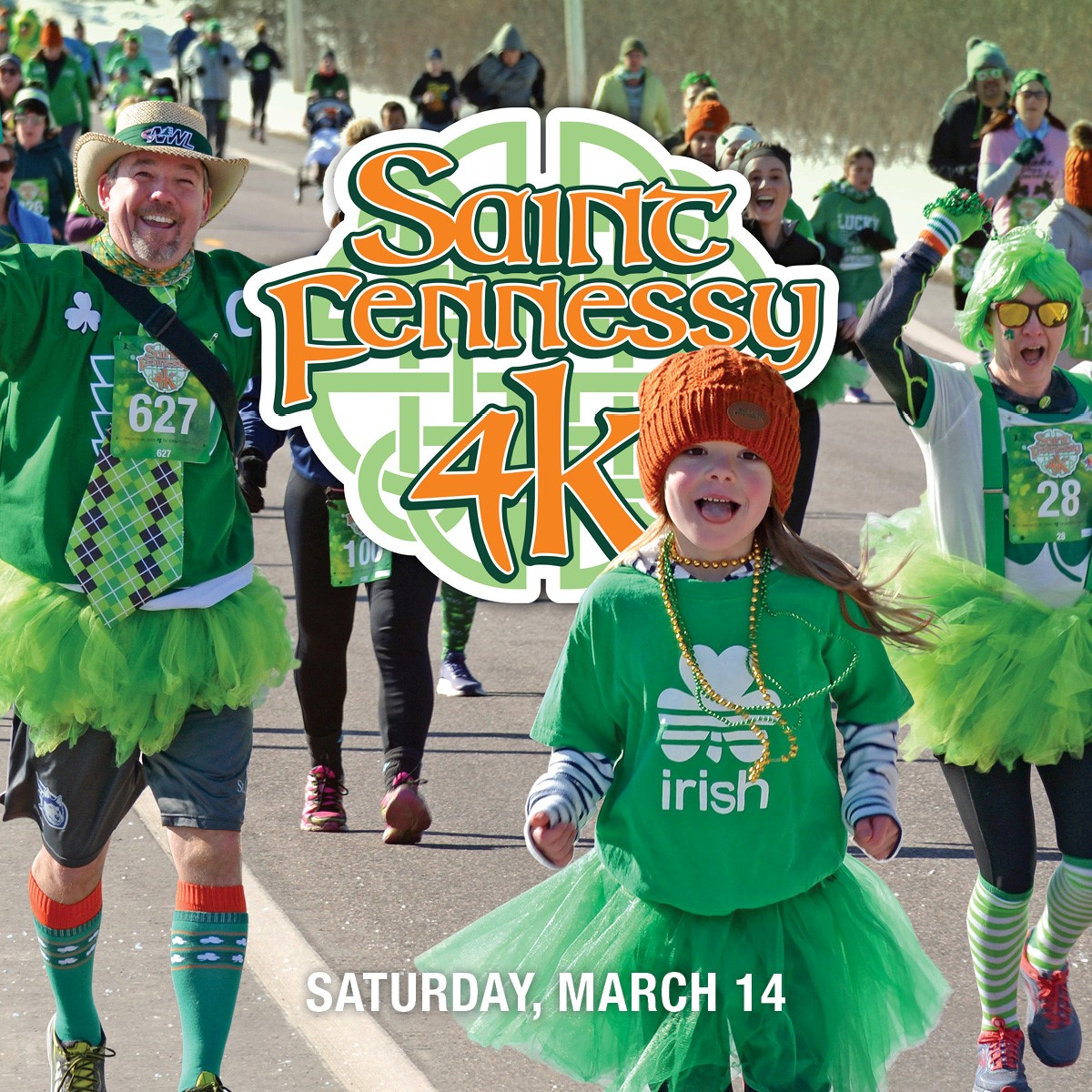 SAINT FENNESSY 4K TO INTRODUCE A NEW COURSE AND POST-RACE VENUE
The festive fun run is set for March 14, 2020
(Duluth, Minn.): The Saint Fennessy 4K is scheduled for Saturday, March 14 at 10:00 a.m. in Hermantown. The festive St. Patrick's Day themed fun run kicks off the KP Challenge to benefit the Young Athletes Foundation, the charitable arm of Grandma's Marathon.
There will be major changes to the Saint Fennessy 4K this year that will significantly enhance the experience for participants! The race begins at Hermantown High School and travels along Arrowhead Road, but this year the new course will turn north on Stebner Road and the finish line will be positioned just outside of Skyline Social & Games (4894 Miller Trunk Highway), which will host a larger and more streamlined finisher area for the event.
The post-race celebration will take place indoors at the newly renovated Skyline Social & Games and will offer plenty of space to enjoy live music and take part in post-race family-friendly activities. There will be a costume contest conducted where prizes will be awarded to the participants with the most popular St. Patrick's Day attire. Skyline also offers traditional bowling, duckpin bowling, arcade games and virtual reality experiences that participants and families can enjoy following the race.
The logistical changes will substantially increase event parking and improve the post-race shuttle service. Shuttle bus service will be available free of charge from 9:00 a.m. to 1:00 p.m. between Skyline Social & Games and Hermantown High School after the event.
The race entry fee is $30 for adults and $10 for kids 14 & under until midnight on Thursday, March 12. All 4K participants will receive a complimentary beverage, winter hat and knit gloves. The race capacity is limited to 850 participants and sold out last year. If the capacity is not met prior to midnight on Thursday, in-person registration will be $35 for adults and $10 for kids on Friday, March 13, from 2:00 p.m. to 7:00 p.m. at Skyline, and from 7:30 a.m. to 9:30 a.m. inside Hermantown High School on race morning.
This is the first race in the 2020 KP Challenge where participants commit to run three Grandma's Marathon races, including the Saint Fennessy 4K, Fitger's 5K and Park Point 5-Miler/2-Mile Walk. The series is designed to keep participants on a regular running schedule that supports the successful completion of longer distances. KP Challenge participants will receive an exclusive jacket and finishers qualify for a guaranteed entry into the 2021 Garry Bjorklund Half Marathon upon completion of the final race.
All net proceeds benefit the Young Athletes Foundation (YAF), a Grandma's Marathon program that focuses on the promotion and development of healthy and active lifestyles for youth throughout Carlton, Cook, Douglas, Lake and St. Louis Counties. Since its inception in 1990, the YAF has contributed more than $1,000,000 to area nonprofit youth athletic organizations.
The Saint Fennessy 4K was created in honor of longtime Grandma's Marathon friend Don Fennessy, who passed away in 2011. Fennessy was an original member of both the Grandma's Marathon board of directors and Young Athletes Foundation committee, and a Grandma's Marathon Hall of Fame inductee.
To register or for more information, please visit www.grandmasmarathon.com or call (218) 727-0947.