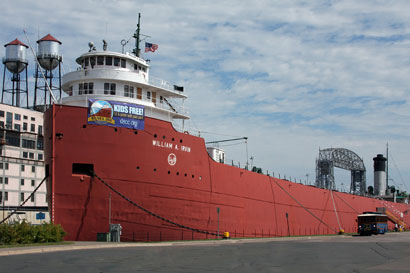 The SS William A. Irvin is an iconic site within Canal Park. She currently sits in dock in the Duluth Harbor, serving as a floating ship museum. But back in her heyday, the Irvin was the flagship of the US Steel Great Lakes fleet from 1938 until 1975. She spent her days carrying both iron ore and coal, as well US Steel guests and dignitaries, throughout the Great Lakes ports.

History
The William A. Irvin first launched in Lorain, Ohio, on November 10, 1937 from the yards of the American Ship Building Company. It cost $1.3 million to build her. She began her maiden voyage on June 25, 1983 and soon began hauling materials from the tip of Lake Superior (Two Harbors, Superior and Duluth) down to US Steel's mills on Lakes Michigan and Erie.
The Irvin is named after William A, Irvin, the 4th president of US Steel. William and his 2nd wife, Gertrude, were the very first guests aboard the SS William A. Irvin.
On August 27, 1940 the William A. Irvin set a record by unloading 13,856 tons of ore in 2 hours and 55 minutes by using Hulett Unloaders. That record still remains unbroken and it is unlikely to be broken, because all ships today use automatic self-unloaders in the bottom of their cargo holds. The Irvin is one of a few Great Lakes vessels to be retired still holding a current Great Lakes cargo record.
Having become outclassed in size, The Irvin was retired in 1978 and laid in West Duluth until the DECC purchased her 8 years later for $110,000. She's been online display since then.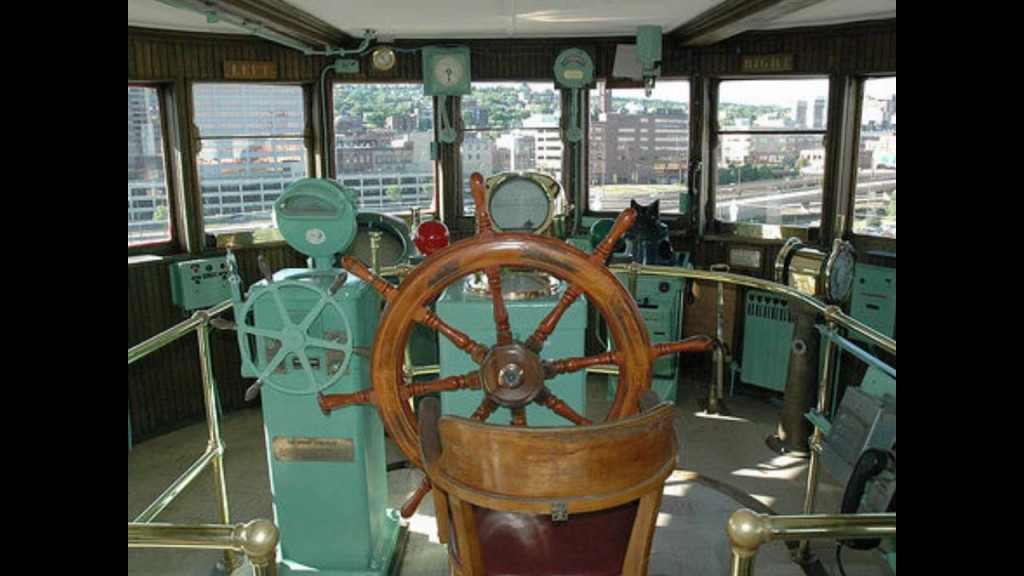 Description and Boat Specs
-610 feet and 9.75 inches in length
-Beam width of 60 feet
-Depth of 32.6 feet.
-Carrying capacity of 14,000 tons.
-Among one of the first ships to be powered by DeLaval Cross steam turbines
-First to have all areas of the ship accessible from the interior of the ship which allowed the crew to stay inside during rough weather.
-Capable of speeds up to 11.1 mph when full loaded, and up to 12.5 mpg when empty (she was the slowest ship in the fleet).
-Burned 2,400 lbs. coal per hour
-2,000 horsepower turbine engine
-Cast steel anchors – two 8,000 lb. on the bow, and one 6,000 lb. at the stern
-Nine officers, 32 crew members.
-All cargo was loaded and unloaded through 18 hatches (weighing 5.5 tons each) on the deck of the ship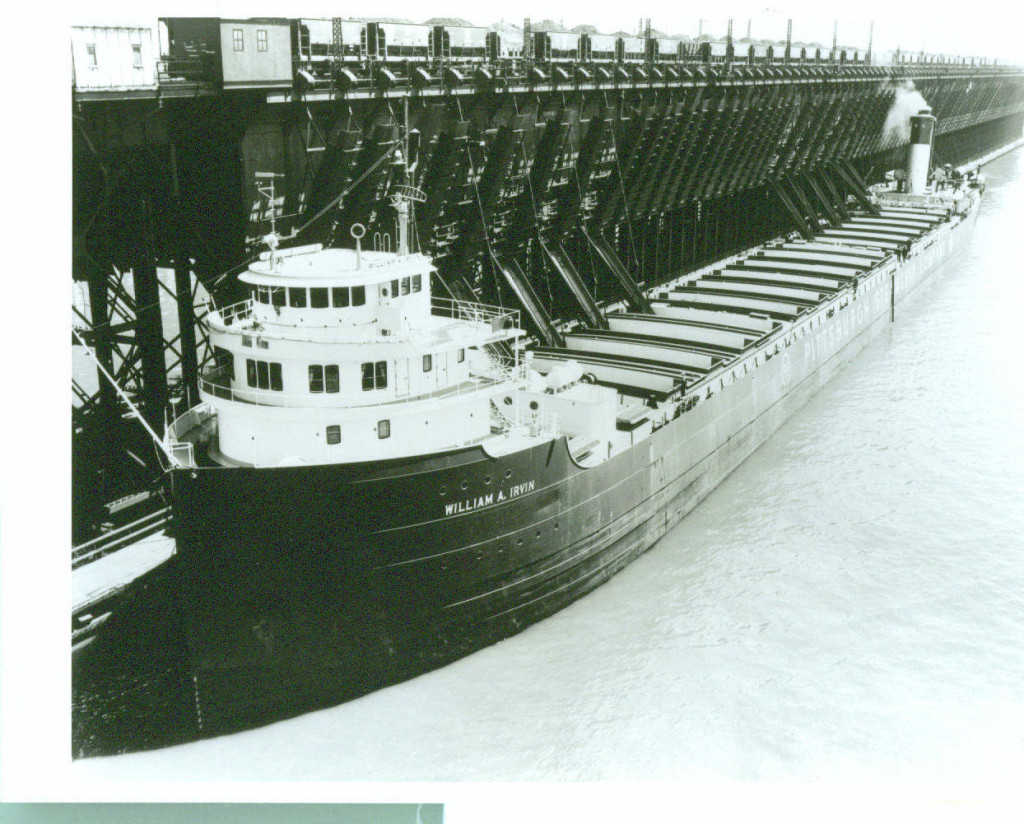 Another special feature of the William A Irvin is her 3-tiered bow cabin. Traditionally, lakers would only have 2 tiers. This extra deck of the ship has brass hand railings and is trimmed in oak paneling and walnut veneer. It features a suite of guest cabins, lounge and a dining room.
The Irvin is open daily for tours from May through September. The Haunted ship tours begin in early October.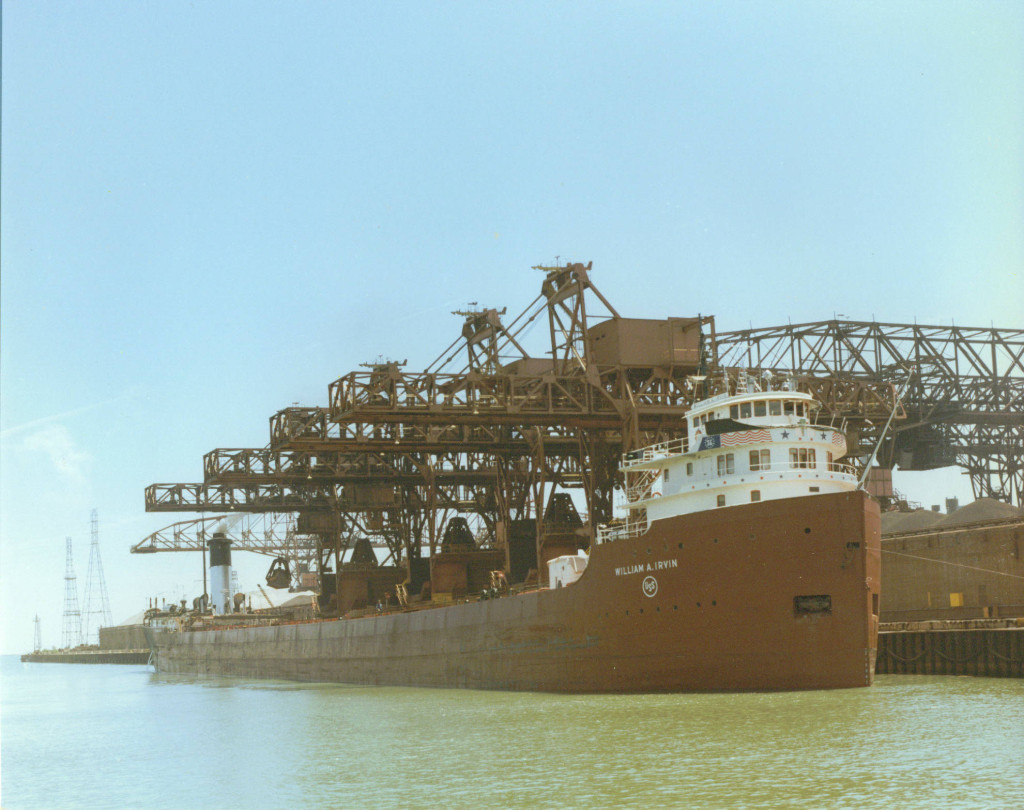 Learn more about Duluth Shipping.
Looking for more attractions along the North Shore? Check out this top 10 list: North Shore attractions
(Historic photos via the DECC)
By Jessica Carl