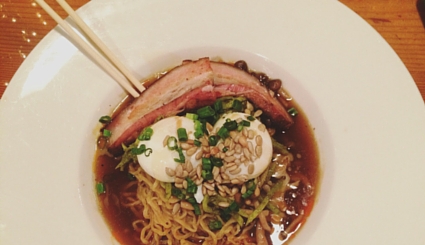 1. Noodle Bowl, Lake Avenue Restaurant
If I could swim in a pool of Lake Ave's Noodle Bowl, I would. Semolina noodles, soy-pickled mushrooms,
cilantro, radish, sunflower seeds, chili oil, and egg makes a cozy bowl of comfort food that I could eat day after day. My absolutely favorite part of the Bowl? The perfectly gooey soft boiled egg. When you try it, add the pork belly. Because why eat bacon when you could have pork belly?
2. Cajun Finn, Northern Waters Smokehaus
I don't know if you have ever dreamt about a sandwich, but, Northern Waters' "Cajun Finn" haunts my dreams. House-smoked Cajun spiced Atlantic salmon, green onion cream cheese*, roasted red peppers, pepperoncini and lettuce on stirato. I used to try and save half the sandwich for later but would end up creeping slowly back to the kitchen to devour the second half. Filling but not heavy, the sandwich is a must try.
*Pro Tip: Ask for half of the cream cheese, it helps to bring out the flavors of the peppers and Cajun spices
Want to Learn More About Canal Park & Always Know About Upcoming Events & Festivals? Join our Mailing List Now! You'll Receive Updates Straight to Your Inbox. Plus You'll be Entered into Our Current Giveaway Just for Joining!
3. Illinois Central Dog and Homemade Bleu Cheese Potato Salad, Endion Station
When it comes to hot dogs, I love the classics. Give me a dog with mustard, tomato, dill pickle, celery salt and pepperoncini. Endion Station uses hot dogs from Old World Meats and it will bring you back to your childhood days of summer. The homemade bleu cheese and bacon potato salad? All my life I have avoided potato salad strictly because of how Midwestern it is. Until this potato salad happened; and I finished mine and my friends' before they even had a chance (just don't tell my grandma).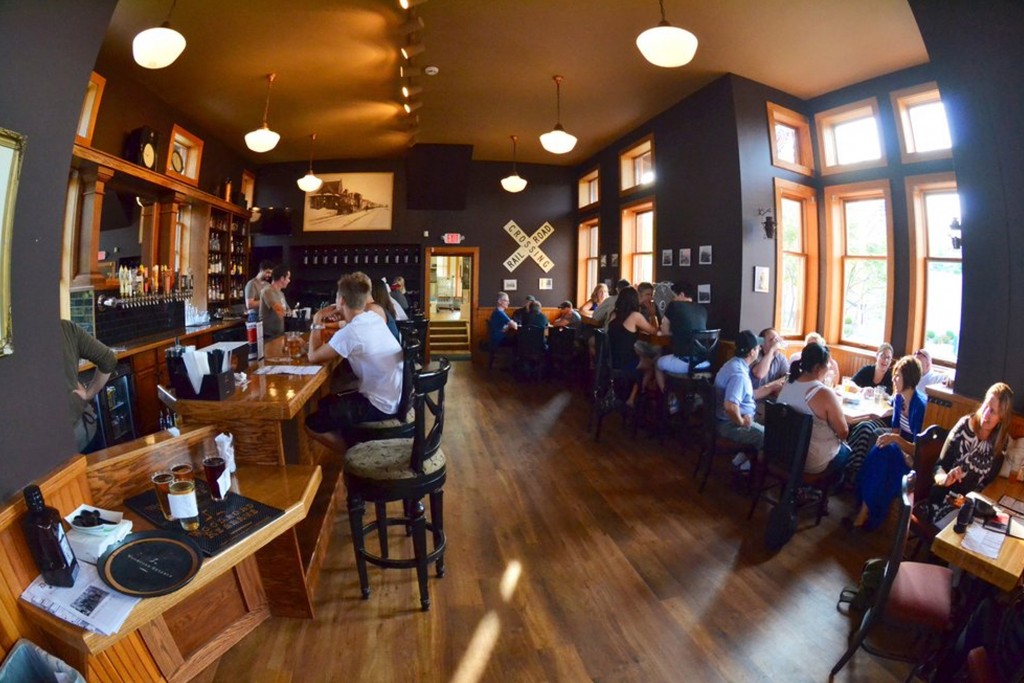 4. Thai Curry Mussels, Canal Park Brewery
Call me old fashioned, but in my mind, "mussels" and "brewery" were never two words that went together ("muscles" and "brewery"? That's a different story). That was until I kept hearing rave reviews about Canal Park Brewery's Thai Curry Mussels. Served as a heaping bowl of mussels with a side of bread* to dip in the coconut milk red curry sauce. It's the right amount of spicy, with a tinge of sweet.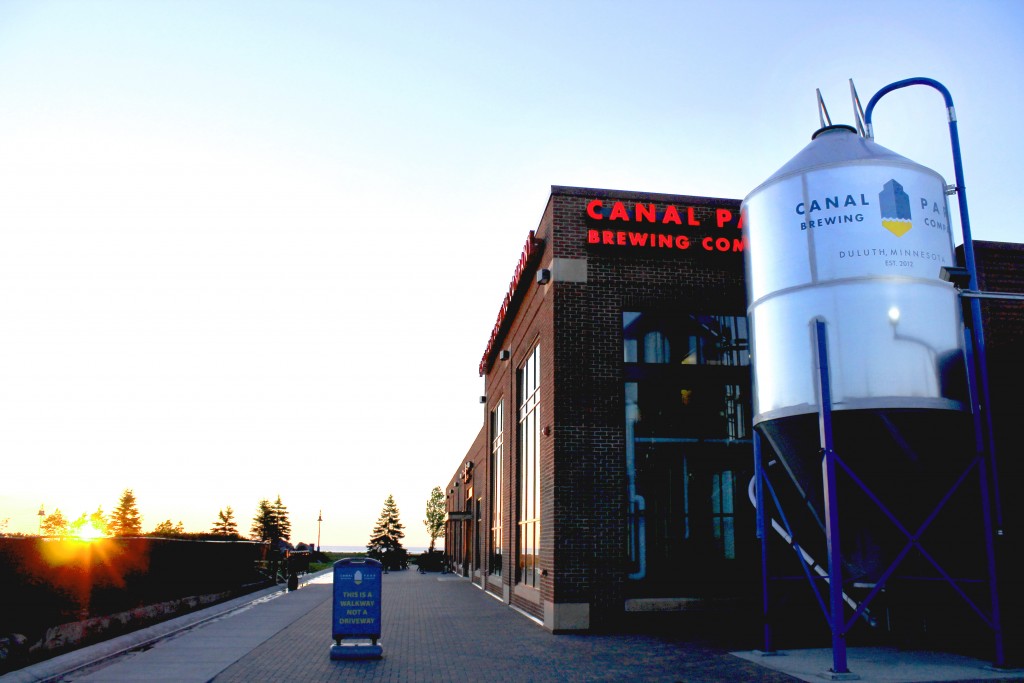 *Pro Tip: Ask for extra bread to soak up all the curry goodness, or a ladle, or straw. #nojudgement
5. Gracer Veggie Sandwich, Amazing Grace
Vegetarians, unite! The Gracer Veggie sandwich at Amazing Grace satisfies your taste buds and your hunger. Packed high with hummus, red onion, lettuce, tomato, green pepper and cheddar cheese; this sandwich keeps you full. Amazing Grace's homemade hummus is a perfect addition to this vegetarian extravaganza. Yea, it's that good.
6. Joe's Hash Browns, Amazing Grace
Amazing Grace isn't just for lunch, their breakfast is amazing. It is one of the only breakfast locations in Canal Park- and you won't be disappointed. My personal favorite is Joe's Hash Browns. Two eggs on top of bacon, garlic, red onion, cheddar cheese and a heap of hash browns. I literally skipped my college graduation ceremony so I could go eat this instead.
7. Tomasso, Vita Pizza
Who doesn't love pizza? It is a crowd pleaser, taste bud winner, every time. Vitta Pizza's Neapolitan style pizzas, which are completely homemade and baked in a wood-fired oven, are no exception. I love the Tomasso pizza for the combination of the salty prosciutto and creamy goat cheese. You can take it to go and enjoy it right on the shores of Lake Superior*. I'm sorry, Dominos, it's over.
*Pro Tip: Grab extra napkins
8. Chicken Wild Rice Soup, Grandma's Restaurant
A state where wild rice is plentiful and commonly used and a restaurant whose soup is so good, they sell it in stores (like Sam's Club) for you to take home. A hearty, creamy soup that's bound to fill you up and leave you satisfied, and probably wanting more.
9. Egg Rolls, Taste of Saigon
The Dewitt Seitz building seems to be a gold mine when it comes to food in Canal Park. It is home to Northern Waters Smokehaus, Amazing Grace, Lake Avenue Restaurant, and Taste of Saigon. Taste of Saigon serves a wide range of Vietnamese and Chinese cuisine. My favorite? The egg rolls. Made fresh and fried to crispy perfection with amazing sauce to dip them in.
10. Walleye Milanese, Bellisio's
Italian food meets Minnesota hearty food, for the win. Bellisio's Walleye Milanese is breaded and sautéed Canadian walleye with a lemon-butter caper sauce served over parmigiano reggiano mashed potatoes. Um, yum. While you're there enjoy a sampler of wine from Bellisio's incredible wine selection.
Which of these 10 meals has your mouth watering the most? Did your favorite Canal park meal not make the list? Share it with us in the comments below!

By Maggie Paulson