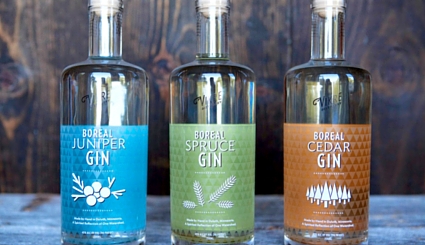 I have been a huge fan of Vikre Distillery  since I first visited their distillery in 2014. Once I had my new favorite spirit (their Cedar Gin), I started looking at the people behind the company. I knew their names, Joel and Emily Vikre (pronounced veek-rah), I knew they were married, and I knew I thought them to be some of the most inspiring people in town. I would be out and about and see them and go "oh, it's those guys!" (and then silently fan girl) without ever having personally met them. And Duluth is small enough, so I geeked out a fair amount. I was beyond excited (and a little bit nervous) when Emily graciously agreed to sit down with me and discuss their business – where it came from, where it's going, and just how they ended up in Canal Park.
The idea for starting a distillery happened one winter night when Emily and Joel were visiting Duluth (Emily grew up here) from Boston, in the basement of the Kitchi Gammi Club discussing Swedish whiskey. The conversation turned to the natural resources available for whiskey distilling in Minnesota. Lake Superior has the cleanest water in the world and Minnesota grows rye, barley and corn. The result? Joel and Emily returned to Boston knowing that they were going to open a distillery in Duluth, Minnesota.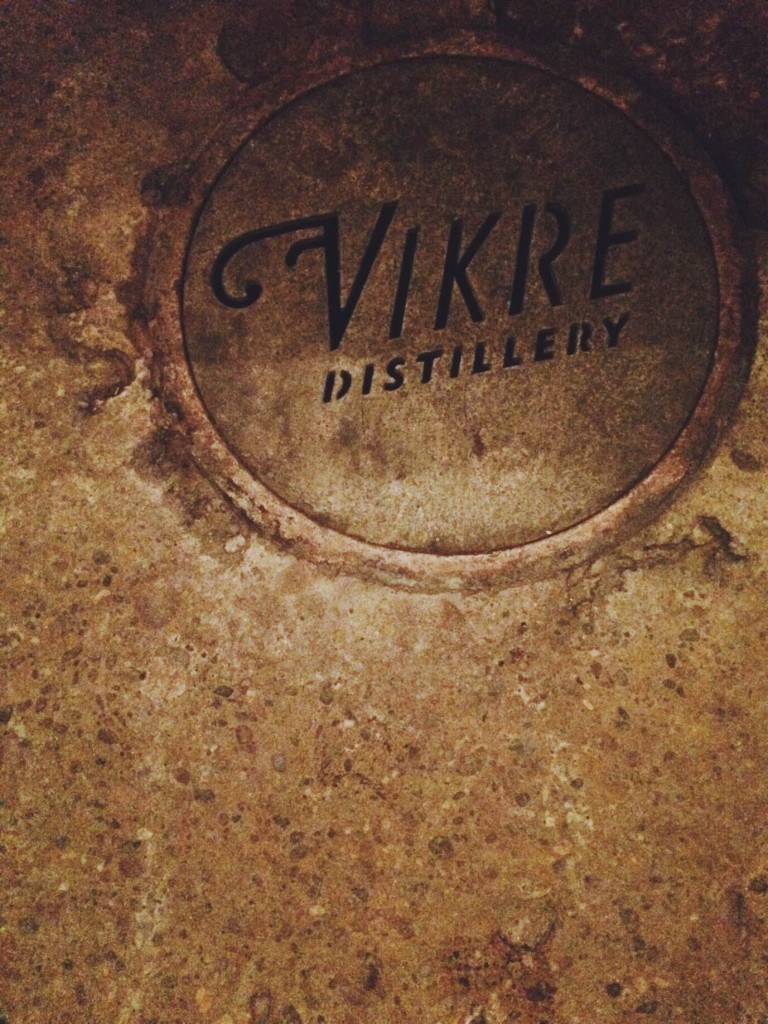 Once back in the routine of their daily lives, the idea of opening a distillery stayed in their mind. Emily said that it was kind of like they were "possessed" with the idea and that starting seemed "non-effortful". Once they actually began planning and looking in to distilling – the cards kept falling in to place. They knew someone who worked in a distillery out East and were able to get hands on distilling experience. After such a boom in the craft brewing industry, starting a craft distillery appeared to be the next logical step.
Although Duluth was the only city in mind for Vikre, Canal Park wasn't always in mind for the location.  The distillery needed to be somewhere that was industrially zoned – able to fit and hold the equipment. Emily and Joel looked at locations around Duluth, including downtown and Canal Park. The bay side of Lake Avenue is industrially zoned – although the other side is not – and it is on the bay side of Lake Avenue right next to the Aerial Lift Bridge where Vikre Distillery has made its home.
Inside the distillery, Emily and Joel have made the space warm and inviting. Floor to ceiling windows allow you to see in to the production area while sipping on cocktails, and the decor is a mix of industrial and rustic. The cocktails, too, are a must try. The menu changes seasonally and all cocktail components are made from scratch. Except for limes, they boast, which grow on trees.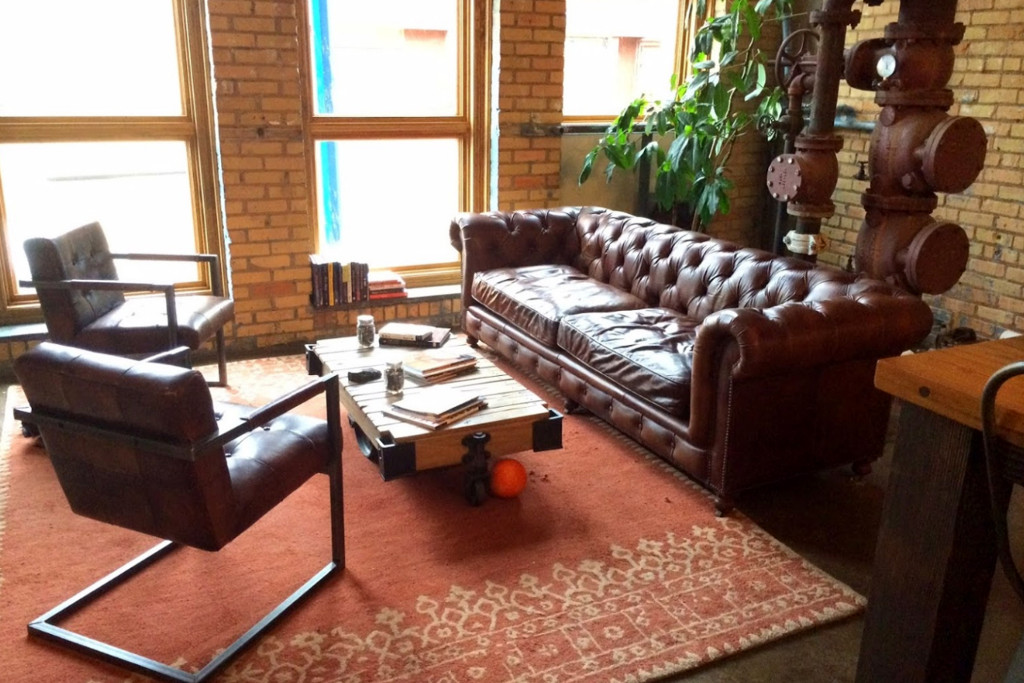 Currently, Vikre's range of distribution is Minnesota, Wisconsin and Chicago. For the future, they would like to see distribution expand to the upper Midwest and possibly California, New York and Seattle – due to large Scandinavian populations in those areas (Emily is 100% Norwegian). When asked if they would ever like to expand in to a national brand, Emily stated that they would only consider expanding nationally if it were sustainable, while remaining community and energy focused.
Vikre has been partnering up with local breweries, such as Bent Paddle, for their much anticipated and sought after whiskey (Sugarbush Whiskey lot 2 is released Friday, April 1st!). However, micro breweries have limitations on how much and what they can produce per year. Vikre will have their own fermenter put in to the distillery to make whiskey in house as they hope to make more whiskey in the future.
Although the idea for Vikre was inspired by whiskey; Vikre's gin, vodka, and aquavit were not an afterthought. Moved by the flavors found in the north woods, Emily says that "we were very thoughtful and intentional of what we were making" and they will continue to make them.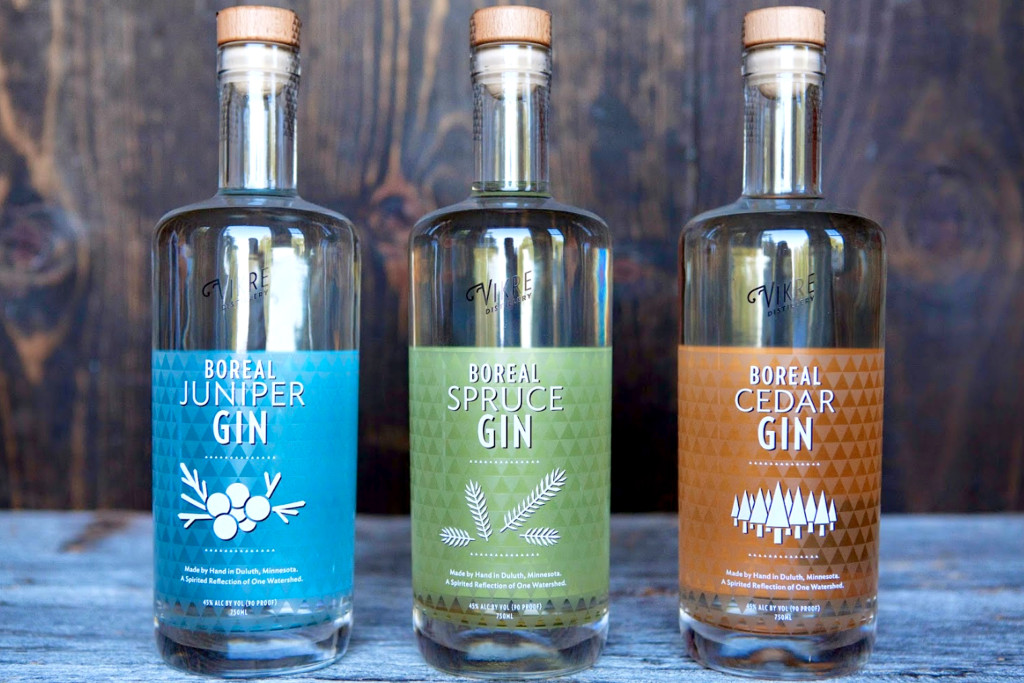 You may be asking yourself "what the heck is aquavit?" I asked that too, as all I could answer was "it's like a Scandinavian thing…I think". Similar to how gin is made with juniper, aquavit is a neutral Scandinavian spirit made with caraway and dill that is inspired by Scandinavian baking.
I asked Emily how she felt about returning to the place she grew up in as an adult. She was worried that it would "take five years" to make a friend like it did in Boston. But moving back to Duluth and becoming a part of the Duluth community has exceeded her expectations. She described Duluth as being a landing place – a place where people come to settle down and plant roots. Emily thinks that because of this, people are more accepting of the "whole package" – accepting people for the good and the bad.  Community is important, there is a pride about what is happening and going on in Duluth, and Vikre is excited to be a part of it.
Her favorite thing to do in Canal Park? Walk on the Lakewalk and throw rocks in the lake with her two year old son.
Headed out to Vikre soon? Tag us on Facebook, Instagram or Twitter!
By Maggie Paulson